Crawl Space Insulation and Repair
Rodent infestation is very common in crawl space insulation in combination with poor air quality, rotting structures and energy waste.
Croach® is an experienced crawl space insulation contractor for Seattle, WA area homeowners.
Transform Your Crawl Space
The condition of your crawl space affects the quality of your entire home. Transform your crawl space from musty, damp, and pest-ridden to an energy-efficient and welcome extension of your home.
Symptoms of a crawl space problem include:
Drywall cracks in the interior
Uneven or sagging floors
Mold in the crawl space or on your baseboards
Foul odors in the home
Heightened allergies
Asthma symptoms
Condensation on your windows
High energy bills
Pest and rodent infestation
If you've been avoiding your crawl space because it's damp, wet or musty, home to spiders, bugs, rats or mice, and is otherwise an unpleasant area of your house, it needs your attention.
Why Combine Professional Pest Control and Crawl Space Insulation Services?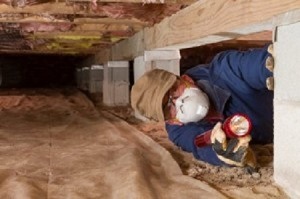 Pest and rodent control is a crucial step that most crawl space repair companies miss.
Our technicians are licensed and experienced in the construction side of crawl space repair.
They are also skillfully trained to eradicate existing pests, meticulously sanitize, and exclude future pest access.
Don't let rats, mice, and other rodents get back in and jeopardize your crawl space insulation and repair investment.
Common pest and rodent exclusion services:
Identify and fix access openings.
Repair damaged vent screens.
Crawl space doors and wells will be restored or replaced.
Remedy construction flaws in the rim joists and foundation.
Seal gaps around pipes exiting the home.
And much more.
Croach® Crawl Space Insulation Process
After a comprehensive inspection, your Croach® crawl space contractor will customize a plan to make this area of your home safe, clean and energy-efficient.
Depending on the condition of your crawl space, you can expect:
✔ Removal and disposal of your damaged insulation.
✔ Extermination of existing rodents and pests.
✔ Application of a bacteria-enzyme odor-control product. This product kills bacteria and eliminates organic odors, germs, fungi, and mildew. This step is exceedingly important for damp or water-damaged insulation and structures.
✔ Decontamination of the entire area, if requested. We'll clean and sanitize to remove urine and feces that rodents leave behind.
✔ Professional pest control exclusion services for the prevention of future rodent invasion.
✔ Installation of new, energy-efficient crawl space insulation.
You have entrusted us to improve the quality of your home and we go above and beyond to make sure we honor that trust.
What About My Attic?
Often, similar insulation problems in crawl spaces can be found in attics as well.
Attics are usually a home's #1 culprit for an inadequate amount of insulation, outdated materials, and rodent problems.
Our technicians use specialized equipment, such as vacuum systems, to clean out old, inefficient or damaged insulation. We utilize our expertise to eradicate rodents, vermin or birds, sanitize the area and install blown attic insulation for the highest pest prevention and energy-efficiency.
Contact Croach® to schedule a free, no-obligation crawl space contractor and rodent control proposal.
Seattle Service Area
We serve the Seattle, WA area including Everett, Snohomish, Lynnwood, Bothell, Kirkland, Redmond, Bellevue, Sammamish, Issaquah, Snoqualmie, Maple Valley, Newcastle, Renton, Kent, Covington, Auburn, Tacoma, Lakewood, Puyallup, Olympia, Mount Vernon, Lake Stevens, Mercer Island and Gig Harbor.
Croach®
12420 3rd Ave SW
Seattle, WA 98146
(425) 202-7890
Licensed, Bonded, Insured
Washington Pest Control License #82060
Washington Contractor License #CCPESTFF*894K4
---