Seattle Bee Removal and Control
Croach® provides licensed, experienced bee removal and wasp control services in Anacortes, Arlington, Auburn, Bellevue, Bellingham, Bonney Lake, Bothell, Buckley, Burlington, Camano Island, Coupeville, Eatonville, Everett, Federal Way, Ferndale, Issaquah, Kent, Kirkland, La Conner, Lake Cavanaugh, Lakewood, Lynden, Lynnwood, Marysville, Monroe, Mount Vernon, Mukilteo, Oak Harbor, Olympia, Oso, Puyallup, Redmond, Renton, Seattle, Sedro-Woolley, Snohomish, Stanwood, Sumner, and Tacoma.
Licensed, Bonded, Insured
WA Pest Control License #70991
WA Contractor Lic #PESTFF*894K4
Request a Free Estimate
Bees of Seattle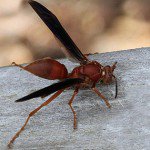 Yellow Jackets, Hornets, and Paper Wasps are the most common wasp species in the Seattle area.
Wasp nests are often found on building overhangs, in walls or pipes, tree branches, attics, garages, and other high spaces. But they are also known to build a nest under your lawn furniture or in a crevice of your home.
Yellow Jackets prefer to conceal their nests underground or in the hollows of playground equipment or similar structures. In late summer and throughout the fall, Yellow Jackets become far more aggressive as they forage for a less available supply of food.
These bees can sting multiple times if they feel their colony or survival is threatened. They may also swarm if you get too close to their nest or disturb it in some way. Some bees release a chemical when they sting that prompts others nearby to sting as well.
If a colony of bees is creating a perilous or disturbing situation on your Seattle area property, contact Croach® for professional and safe bee removal.
Croach® Bee Removal
Seattle allows for the extermination of bees if they are causing harm to people or property. But in most cases, repelling or relocating bees is a better option to protect you and your property while preserving these essential pollinators.
If you see a swarm – honeybees in a large group without a hive – contact a local bee-keeper to have it removed before starting pest control.
For single bees or an established nest, contact Croach®. Standard pest control will help keep bees out of your home. If you have a nest in your walls, your technician will advise you on how to obtain a cut-out. Either way, personalized service is the first step in bee removal.
Croach® Pest Control Solution
Initial Inspection
A Croach® licensed pest control technician will perform a thorough inspection of your property and discuss potential problems. A customized plan for extermination and ongoing management is presented. Then your home's interior and exterior are treated to begin pest control services.
Regular Services
Ongoing pest control and management are in your best interest for the health and safety of your home, family, and pets. We will fortify a protective barrier around the outside of your property and apply exclusion methods as needed. Your technician uses environmentally-friendly products whenever possible.
Free Retreats Guarantee
If you experience pest activity in between regularly scheduled services, Croach® will return and retreat the affected areas free of charge. If we have not fixed the problem after two retreats, we will refund your last full payment.
---
Free Pest Inspection