Pest Control in Sumner, Washington
Croach® provides dependable, consistent pest control protection to residents in the Sumner, Washington area. Get rid of those annoying ants, rats and mice, spiders, bees and wasps, cockroaches, yard moles, deer mice, carpenter ants and other uninvited rodents, bugs, and insects.
Excellent Pest Control Standard of Service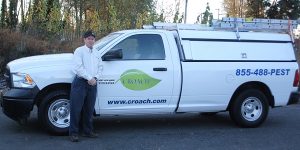 You can count on a skilled inspector, licensed and highly trained technicians, and a friendly, knowledgeable customer service staff.
As a company, our goal is to transcend industry requirements to provide you with exceptional pest control services far beyond the norm.
To achieve this goal and exceed your expectations, we offer FREE retreats between scheduled visits if a warrantied problem arises. We will also perform a thorough attic and crawl space insulation inspection as part of our initial inspection.
"Nicholas Brown is our technician and we are so pleased with the attention and care he gives our home and yard. We have had pest control service previously with a different company and never had the complete care that we have with Croach. We would recommend Croach, and Nicholas, to anyone."
Sumner, WA 98390
Local Exterminator
Integrated Pest Management Services
The city of Sumner likes to celebrate natural beauty. It is well known for its part in the Daffodil Festival. Less known but growing fast are the Rhubarb Days. We appreciate this commitment to agriculture and are happy to be part of your community.
Which makes us think of the nature you don't want to see. Sumner, like all Western Washington, is prone to long wet periods. During those times when rats, mice, ants, spiders, and other pests are trying to get into your home, we keep them out. The water and pests can also damage your insulation. We're here to help with that too.
Free Pest Inspection
Customized Pest Control and Prevention Plans
Your pest extermination needs are unique. So we offer customized eradication and prevention options designed to provide you with total peace of mind.
For effective pest control, Croach® personalizes a program of scheduled services throughout the year to ensure continuous protection.
The first free inspection is comprehensive. We will:
Pinpoint existing pest problems and provide an intensive full-property analysis.
Identify potential areas of pest infestation to prevent them from occurring.
Review results with you, including an explanation of recommended treatment products and methods.
"Very knowledgeable. Spends time to investigate issue before just spraying. Great customer service."
Sumner, WA 98390
Attic Insulation and Crawl Space Repair
Rodents and other pests can do a lot of damage and cause health concerns in the attic and crawl spaces of your home.
Many of our customers have found that they cannot sell their homes until they've completed a crawl space or attic renovation. Or they cannot rent an investment property until restoration and pest prevention is in place.
In addition, material decay and moisture play havoc with your insulation; which makes it ineffective for energy conservation in the home and drives up your energy bill.
Croach® provides professional repair and installation services for the insulation areas in your house. Our approach will ensure the safety and comfort of you and your family throughout the year and improve energy efficiency.
Free Pest Inspection
---
Sumner Service Area
Croach® services all Sumner neighborhoods from our location in town. Neighborhoods like Creekside, East Sumner, Elm St, Garden St, Mountainview, Puyallup St, Sumner View Point, and Village Dr.
Pest Control Branch Office
Croach®
13704 24th St E Ste A106
Sumner, WA 98390
253-331-2376
Licensed, Bonded, Insured
WA Pest Control License #70991
WA Contractor Lic #PESTFF*894K4