Pest Control in Kent, Washington
Croach® provides reliable, customized pest control protection to residents in the Kent, Washington area. Get rid of ants, rats, mice, spiders, bees and wasps, cockroaches, deer mice, yard moles, carpenter ants, bed bugs and other uninvited rodents, bugs, and insects.
Excellent Pest Control Standard of Service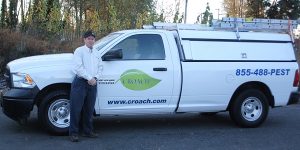 You can count on a skilled inspector, licensed and highly trained technicians, and a friendly, knowledgeable customer service staff.
As a company, our goal is to transcend industry requirements to provide you with exceptional pest control services far beyond the norm.
To achieve this goal and exceed your expectations, we offer FREE retreats between scheduled visits if a warrantied problem arises. We will also perform a thorough attic and crawl space analysis as part of our initial inspection.
"Excellent Technician. Randy knows his job very well. He also does a great job of keeping me informed of what he is doing and on the status of my home. Thank you for the great service!"
"Randy did an excellent job and explained everything he did."
More Pest Control Reviews from Nearby Customers
Free Pest Inspection
Local Kent Exterminator
Integrated Pest Management Services
The town of Kent may still see its share of flooding. It was worse before changes and improvements to the White and Green Rivers. Even small floods can damage your insulation, and we're happy to help you fix that. This damage, the water, and the climate also invite pests like rats, mice, and spiders into your home. Getting rid of them is what we do best.
Kent is a hub for sports and activities in Washington. The ShoWare Center is home to the Thunderbirds, the Stars, and the Mist, as well as many live shows. With Pacific Raceways in town, there is always something exiting to do in Kent.
Of course, we like that art in town. The Mythic Guardian statue reminds us of our service guarding your home from pests.
Customized Kent Pest Control and Prevention Plans
Your pest extermination needs are unique. So we offer customized eradication and prevention options designed to provide you with total peace of mind.
For effective pest control in Kent, Croach® personalizes a program of scheduled services throughout the year to ensure continuous protection.
The first free inspection is comprehensive. We will:
Pinpoint existing pest problems and provide an intensive full-property analysis.
Identify potential areas of pest infestation to prevent them from occurring.
Review results with you, including an explanation of recommended treatment products and methods.
Attic Insulation and Crawl Space Repair
Rodents and other pests can do a lot of damage and cause health concerns in the attic insulation and crawl spaces of your home. Moisture and decay also erode your insulation over time. Compromised or missing insulation reduces its efficiency, lessens energy conservation, and drives up home energy bills.
Many of our customers have found that they cannot sell their home until they've completed a crawl space repair or attic renovation. Or they cannot rent an investment property until restoration and pest prevention is in place.
In addition, material decay and moisture play havoc with your insulation; which makes it ineffective for energy conservation in the home and drives up your energy bill.
Croach® provides professional repair and installation services for the insulation areas in your house. Our approach will ensure the safety and comfort of you and your family throughout the year and improve energy efficiency.
Contact Croach® for cost-effective pest control or insulation services in the Kent, WA area.

Free Pest Inspection
---
Licensed, Bonded, Insured
WA Pest Control License #99029
WA Contractor Lic #PESTFF*894K4
Kent Service Area
Croach® serves all Kent neighborhoods, including Cor, Ferncrest, Foxrun, Grass Lake, Medallion, Midway, Oakdale, Overlook Glen, Panther Lake, Park Orchard, Penny Lane, Strarcrest, The Ridge, Village Creek Estats, Waterbrook, Webster Oaks, and Willow Vista.