Pest Control in Kirkland, Washington
Croach® provides dependable, consistent pest control protection to residents in the Kirkland, Washington area. Get rid of ants, rats, mice, spiders, bees and wasps, cockroaches, yard moles, deer mice, carpenter ants, bed bugs, ticks, and other uninvited rodents, bugs, and insects.
Excellent Pest Control Standard of Service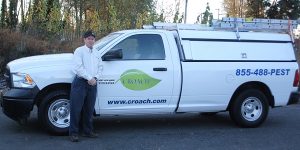 You can count on a skilled inspector, licensed and highly trained technicians, and a friendly, knowledgeable customer service staff.
As a company, our goal is to transcend industry requirements to provide you with exceptional pest control services far beyond the norm.
To achieve this goal and exceed your expectations, we offer FREE retreats between scheduled visits if a warrantied problem arises. We will also perform a thorough attic and crawl space analysis as part of our initial inspection.
"Techs are polite and informative. Results are excellent. No more ants and no more mice. Would highly recommend this company!"
Margaret - Kirkland, WA
"They were professional, efficient and quick. They cured our flea problem in our garage. For six weeks we did everything, still we had fleas. That's in the past. They also set rodent traps, treated the crawl space and around the house. Very satisfied!"
Brian - Kirkland, WA
Local Kirkland Exterminator
Integrated Pest Management Services
At Croach®, we recognize that all wildlife contributes to the ecosystem. Even the worst "pests" play a role. We also recognize that most people don't wish to cohabit with these "pests". So when extermination is necessary, we do it in a manner that has the least possible impact on the environment.
Kirkland has hosted the launch of many prominent Washington businesses. Costco got its start here; the Kirkland Signature brand is named after the city; and Croach is proud to say we started here too.
Kirkland offers beautiful natural attractions and great restaurants. We've walked the trails at Juanita Beach Park and walked across the street from our office to enjoy lunch at the Santa Fe Mexican Grill.
Customized Kirkland Pest Control and Prevention Plans
Your pest extermination needs are unique. So we offer customized eradication and prevention options designed to provide you with total peace of mind.
For effective pest control in Kirkland, Croach® personalizes a program of scheduled services throughout the year to ensure continuous protection.
The first free inspection is comprehensive. We will:
Pinpoint existing pest problems and provide an intensive full-property analysis.
Identify potential areas of pest infestation to prevent them from occurring.
Review results with you, including an explanation of recommended treatment products and methods.
Kirkland Rodent Abatement Declaration
According to Kirkland Municipal Code, if you apply for or receive a permit that involves demolition, land clearing, or land surface modification, rodent abatement will be required prior to the commencement of demolition, clearing, or land surface modification activity. New single-family and single-family addition projects may also require rodent abatement if a rodent habitat will be disturbed in the process.
Croach® is licensed in the State of Washington for rodent control. We can assist you in submitting a Rodent Abatement Declaration with your permit application.
Attic Insulation and Crawl Space Repair
Rodents and other pests can do a lot of damage and cause health concerns in the attic insulation and crawl spaces of your home. Moisture and decay also erode your insulation over time. Compromised or missing insulation reduces its efficiency, lessens energy conservation, and drives up home energy bills.
Many of our customers have found that they cannot sell their home until they've completed a crawl space repair or attic renovation. Or they cannot rent an investment property until restoration and pest prevention is in place.
In addition, material decay and moisture play havoc with your insulation; which makes it ineffective for energy conservation in the home and drives up your energy bill.
Croach® provides professional repair and installation services for the insulation areas in your house. Our approach will ensure the safety and comfort of you and your family throughout the year and improve energy efficiency.
Contact Croach® for cost-effective pest control or insulation services in the Kirkland, WA area.
---
Licensed, Bonded, Insured
WA Pest Control License #99029
WA Contractor Lic #PESTFF*894K4
Kirkland Pest Control Near Me
Croach® proudly serves all neighborhoods in the city including Highlands, Bridle Trail, South Rose Hill, Norkirk, Everest, Downtown, North Rose Hill, Moss Bay, Lakeview, and Juanita.
Seattle Region: Kirkland Location
Croach® Pest Control
12525 131st Ct NE
Kirkland, WA 98034
(425) 202-7890
Google Reviews
Nearby Cities We Serve
Anacortes, Arlington, Auburn, Bellevue, Bellingham, Bonney Lake, Bothell, Buckley, Burlington, Camano Island, Everett, Federal Way, Ferndale, Issaquah, Kent, La Conner, Lakewood, Lynden, Lynnwood, Marysville, Monroe, Mount Vernon, Mukilteo, Oak Harbor, Olympia, Puyallup, Redmond, Renton, Seattle, Sedro-Woolley, Snohomish, Stanwood, Sumner, Tacoma