Bed Bug Exterminator near Seattle, Mukilteo and Sumner, WA
Bed bugs are opportunistic hitch-hikers that travel on our belongings, like luggage and back packs. Croach® Pest Control provides bed bug exterminator services in Washington.
✓ Get a free whole-house pest inspection – inside and out.
Bed Bug Exterminator Service in Washington
The bed bug is a common pest everywhere in the world, including Seattle-area communities. These itchy insect hitch-hikers thrive wherever people gather for extended periods of time.
Examples of public places that are notorious for infestations include hotels, motels, apartments, public transportation, libraries, movie theatres, day care centers, schools, and college dorms.
Croach® Pest Control understands the bug's life cycle, and the multiple approaches needed to achieve complete bed bug elimination.
Are Bed Bugs Hard to Get Rid Of?
The quick answer is YES.
According to an National Pest Management Association survey, 76 percent of bed bug exterminator professionals rate bed bugs as the most challenging pest to get rid of!
They are especially frustrating to eradicate when you rely on do-it-yourself methods.
Signs You Have Bed Bug Infestation
Rusty-reddish stains on your bed sheets and mattress.
Bed bug excrement, which appears as dark spots on the bedding or couch.
Small white eggs and eggs shells.
Live bed bugs.
Bed bug bites (appearing as small, red bumps) on your body.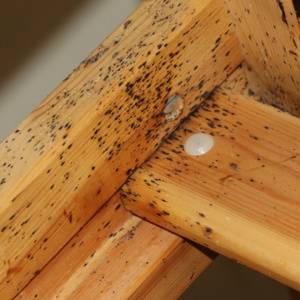 3 Stages of the Bed Bug's Life Cycle
Your Croach® pest control exterminator leverages knowledge of the life cycle of bed bugs in order to eliminate them.
Their stages of growth are:
Egg: Small, white to translucent in color. Usually found in cracks and seams of mattresses and furniture.
Nymph: Starts out small and nearly colorless. Requires blood meals to grow and molt. During this time it becomes larger, and darker in color.
Adult: In 5-8 weeks, at optimal temperatures, the bed bug achieves maturity, and begins multiplying.
Because the infestation includes bugs of all life stages, multiple rounds of treatment are necessary to completely exterminate all the pests.
Quality Service!

Eric Hinkle who was my technician was awesome! Very thorough, and explained everything to me. I switched to Croach a couple of months ago from another pest control business and the quality of service is night and day. Can't say enough good things about this company!
Read more from Sharon S.
Bed Bug FAQs
Washington homeowners have many questions about bed bugs. Here are a few of the most common questions our technicians field.
How Do Bed Bugs Get into Our Homes?
We inadvertently bring bed bugs into our homes and businesses from other locations. There are easy steps you can take to reduce the risk of bringing them into our homes.
What Do Bed Bugs Eat?
Bed bugs feed on the blood of humans. They creep out at night, and are attracted to your body heat and the C02 you exhale.
Do Bed Bugs Die in the Washing Machine?
We recommend washing and drying your bedding after treating a bed bug infestation.
The water temperature needs be at least 120°F or higher to ensure that the bed bugs and their eggs are effectively killed in the washing machine.
And though a high-heat wash and a high-heat dry may kill most bed bugs, laundry day won't be enough to get rid of an infestation. Bugs may still live and breed in your mattress and upholstery.
Why Does Bed Bug Treatment Often Fail?
You may have tried retail bed bug spray and found it to be only a temporary solution. In many cases, the bugs have developed a resistance to certain insecticidal products. Those products might kill some bed bugs upon making contact, but they won't discourage eggs from hatching or kill bugs that are hiding.
Many DIY methods do more harm than good, such as:
Spraying your body with insect repellent before bed
Using pest repellents meant for outdoor use that put your family at risk
Bombs and foggers that only force bed bugs into harder-to-reach hiding places
Your Croach® bed bug exterminator knows how to break the life cycle of pests by using focused strategies.
Golden!

Ian has been visiting our cabin in the woods for some time. He's always very knowledgeable and our corgi, Sophie, likes him. Sophie doesn't usually like anyone. Can't say enough about Ian - he's top notch in  knowledge with old school customer service. I would imagine that Croach relies on him considerably. He's golden!
Read more from Sumner customers
Put Your Bed Bug Problems to Rest!
You don't have to sleep with bed bugs! Contact Croach® to schedule a free inspection today.
Seattle / Mulkiteo / Sumner Service Areas
Croach® Pest Control provides licensed, experienced bed bug control services in Anacortes, Arlington, Auburn, Bellevue, Bellingham, Bonney Lake, Bothell, Buckley, Burlington, Camano Island, Coupeville, Eatonville, Everett, Federal Way, Ferndale, Issaquah, Kent, Kirkland, La Conner, Lake Cavanaugh, Lakewood, Lynden, Lynnwood, Marysville, Monroe, Mount Vernon, Mukilteo, Oak Harbor, Olympia, Oso, Puyallup, Redmond, Renton, Seattle, Sedro-Woolley, Snohomish, Stanwood, Sumner, and Tacoma.
Licensed, Bonded, Insured
WA Pest Control License #96366
WA Contractor Lic #PESTFF*894K4