Denver, CO Pest Control Experts in Elimination and Prevention
Croach® brings superior pest elimination to Denver, CO residents. We offer a variety of service and protection plans for the results you need.
Croach® Comprehensive Pest Control Services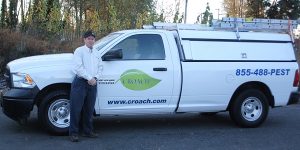 Changing seasons bring out all sorts of unwanted pests. Bees and ants appear during hot weather, rodents look for room and board in the winter, and moles, gophers, spiders, and cockroaches may enjoy your home or property year round.
Keeping your property damage-free and your family safe from pests can be frustrating. Our highly trained inspectors, technicians, and customer service staff work with you to customize a pest elimination and prevention plan.
We take pride in our service standards, which ensure we offer the most complete and efficient treatments available in the pest control industry. We provide:
Experienced technicians.
Tailored service plans.
Prevention programs for continuous protection.
Free retreats between appointments if you need them.
Local Denver Exterminator
Integrated Pest Management Services
Form the mundane to the bizarre, Denver has something for everyone.
For those who want to see nature where it belongs, outside of your house, there are the Denver Botanic Gardens, the Denver Museum of Nature and Science, and, of course, the Denver Zoo. If you want to stay indoors there is always the Bug Theatre which is unique in its own, good, way. Even if it is named after bugs.
The place you don't want to enjoy wildlife is in your kitchen, living room, or bedroom. Nor do you want wasps, ants, and other insects ruining your backyard BBQ. Croach® provides you with a tailored pest management and prevention program.