Denver, CO Pest Control Experts in Elimination and Prevention
Croach® brings superior pest elimination to Denver, CO residents. We offer a variety of service and protection plans for the results you need.
Croach® Comprehensive Pest Control Services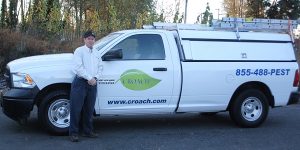 Changing seasons bring out all sorts of unwanted pests. Wasps, ticks, and ants appear during hot weather, rodents look for room and board in the winter, and moles, gophers, bed bugs, spiders, silverfish, and cockroaches may enjoy your home or property year round.
Keeping your property damage-free and your family safe from pests can be frustrating. Our highly trained inspectors, technicians, and customer service staff work with you to customize a pest elimination and prevention plan.
We take pride in our service standards, which ensure we offer the most complete and efficient treatments available in the pest control industry. We provide:
Experienced technicians.
Tailored service plans.
Prevention programs for continuous protection.
Free retreats between appointments if you need them.
Local Denver Exterminator
Integrated Pest Management Services
Form the mundane to the bizarre, Denver has something for everyone.
For those who want to see nature where it belongs, outside of your house, there are the Denver Botanic Gardens, the Denver Museum of Nature and Science, and, of course, the Denver Zoo. If you want to stay indoors there is always the Bug Theatre which is unique in its own, good, way. Even if it is named after bugs.
The place you don't want to enjoy wildlife is in your kitchen, living room, or bedroom. Nor do you want wasps, ants, and other insects ruining your backyard BBQ. Croach® provides you with a tailored pest management and prevention program.
---
"No pests! Any evidence of pests and they get right here. I thought bunnies were digging in but the hole was from mice. Croach identified and took care of it. I love not having to deal with mice and spiders."
Vicki - Denver, CO
---
Free Pest Inspection
The Pest Management Process for Denver Homeowners
Your first inspection includes an identification of your existing pest issues. Diagnosing areas that are vulnerable to future problems is also a priority at this stage. Our next step is to review our findings and make recommendations that resolve your pest issues. We thoroughly explain our treatment methods and products and answer your questions. Then, we treat the inside and outside of your home. At this time, our technicians will also de-web for spiders and remove wasps nests as appropriate.
Croach® Credentials and Customer Benefits
Licensed, insured, and experienced technicians.
Customized pest control service plans specific to the Brighton area.
Hi-tech solutions that save you money and time, for ongoing prevention of pest and rodent infestation.
If you need them, we offer free retreats for warrantied services between appointments. Just give us a call.
---
"I really appreciate Croach and the great service they provide. We live near a field, so our house should theoretically be teeming with critters and bugs. Fortunately for us, we haven't seen a bug in our house since we began with Croach. Additionally, Keith was our technician, and he's thorough and professional as well as polite and kind. Thanks again!"
Mark - Denver, CO
---
Free Pest Inspection
Denver Service Area Branch Office
Croach® Pest Control
20100 E 32nd Pkwy Ste 110
Aurora, CO 80011
719-377-6776
Licensed, Bonded, Insured
CO License #16006
Colorado Pest Control Service Area
We serve the Front Range of Colorado, including Arvada, Aurora, Boulder, Brighton, Broomfield, Castle Rock, Centennial, Commerce City, Denver, Erie, Frederick, Glendale, Henderson, Hudson, Lakewood, Littleton, Longmont, Loveland, Parker, Thornton, Westminster, and Windsor.