Aurora Pest Control Services
Croach® provides customized, cost-effective pest control services for Aurora area homeowners and businesses.
Get Rid of Spiders, Rats, Mice, Ants, and Wasps
Croach® pest management services work to safeguard your family and property in Aurora from all of these bugs and pests.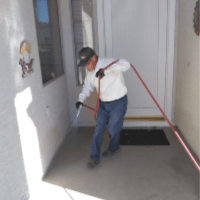 We've also got you covered for common pest problems such as deer mice, carpenter ants, hornets, yellow jackets, black widows, yellow sac, brown recluse, and hobo spiders.
Encountering them outside is one thing. It's when they try to join you in your home that they really become a problem. And the spiders we mention can be dangerous.
But no worries – Croach® technicians are thorough in removing unwanted guests from your home, within your budget.
Your pest extermination needs are unique. So we offer customized eradication and prevention options designed to provide you with total peace of mind.
Free Pest Inspection
Local Aurora Exterminator
Integrated Pest Management Services
With more than 100 parks in Aurora, it is clear we love the outdoors! Spend the day out with your family at Great Plains Park or at historic attractions like the round barn at the Delaney Farm. Aurora is also known for interesting public art like the Dr. Marin Luther King Jr. statue at the library of the same name, or the "Unglued" 16-foot blue chair with a leg falling off.
Summers are beautiful in Aurora, with average highs in the mid-eighties. The winters are great if you like snow and cold. Those cold temperatures send pests like spiders, roaches, and rats scurrying into your house to survive.