Aurora Pest Control Services
Croach® provides customized, cost-effective pest control services for Aurora area homeowners and businesses.
Local Aurora Exterminator
Integrated Pest Management Services
With more than 100 parks in Aurora, it is clear we love the outdoors! Spend the day out with your family at Great Plains Park or at historic attractions like the round barn at the Delaney Farm. Aurora is also known for interesting public art like the Dr. Marin Luther King Jr. statue at the library of the same name, or the "Unglued" 16-foot blue chair with a leg falling off.
Summers are beautiful in Aurora, with average highs in the mid-eighties. The winters are great if you like snow and cold. Those cold temperatures send pests like spiders, roaches, and rats scurrying into your house to survive.
---
"Love the service! I have used other services similar to the ones offered by Croach, however the attention to detail offered is like no other. My technician, Keith is awesome! He is super friendly, and efficient. He is very knowledgeable and informs me of everything he see's around the home. I am absolutely pleased!"
Jessica – Aurora, CO
---
Get Rid of Spiders, Rats, Mice, Ants, and Wasps
Croach® pest management services work to safeguard your family and property in Aurora from all of these bugs and pests.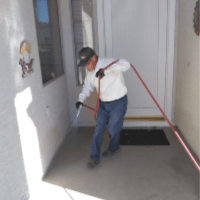 We've also got you covered for common pest problems such as deer mice, carpenter ants, hornets, yellow jackets, black widows, yellow sac, brown recluse, and hobo spiders.
Encountering them outside is one thing. It's when they try to join you in your home that they really become a problem. And the spiders we mention can be dangerous.
But no worries – Croach® technicians are thorough in removing unwanted guests from your home, within your budget.
Your pest extermination needs are unique. So we offer customized eradication and prevention options designed to provide you with total peace of mind.
What You Can Expect During Your Initial Visit
Your home is thoroughly inspected. This initial checkup includes:
Identifying your existing pest issues
Diagnosing potential future pest problems
Reviewing results with you including an explanation of recommended treatment products and methods.
Croach® Credentials and Customer Benefits
Licensed, insured, and experienced technicians.
Customized pest control service plans specific to the Aurora area.
Hi-tech solutions, that save you money and time, for ongoing prevention of pest and rodent infestation.
If you need them, we offer free retreats for warrantied services between appointments. Just give us a call.
---
"No pests! Any evidence of pests and they get right here. I thought bunnies were digging in but the hole was from mice. Croach identified and took care of it. I love not having to deal with mice and spiders."
Vicki – Aurora, CO
More Pest Control Reviews from Nearby Customers
---
Contact Us
Croach®
20100 E 32nd Pkwy Ste 110
Aurora, CO 80011
719-377-6776
Business Hours
Mon – Fri 8 am – 6 pm
Sat 9 am – 2 pm
Licensed, Bonded, Insured
CO License #16006
Aurora Service Area
Croach proudly serves all Aurora neighborhoods including Watkins, E Smoky Hill Rd/S Gun club Rd, E Ridge Trail Dr, S Tallyns Reach Pky, E Orchard Rd, S Waco St, E Arapahoe Rd/ E Aurora Pky, E Ida Dr/E Low Dr, N Gartrell Rd, S Parker Rd/S Fraser St, E Jewell Ave, and E Quincy Ave.
We serve the Denver area including Aurora, Brighton, Castle Rock, Centennial, Commerce City, Denver, Hudson, Littleton, Loveland, Parker, Thornton, and Windsor.
---
Request a Free Estimate