Pest Control in Sumner, Washington
Croach® provides dependable, consistent pest control protection to residents in the Sumner, Washington area. At Croach, we believe that getting rid of the pest is only half of the equation; the job isn't complete until they are prevented from returning.
Get rid of those annoying ants, rats and mice, spiders, silverfish, bees and wasps, ticks, cockroaches, bedbugs, yard moles, deer mice, carpenter ants and other uninvited rodents, bugs, and insects.
"John at Croach was very knowledgeable, on-time, full of information. He was was very mindful of wearing shoe covers in the house and was super friendly with our dog. Rats in a newly purchased home can be quite stressful - John's expertise was very reassuring."
Read more from Joe A.
Croach® Pest Control is the Industry's Most Eco-Friendly
The residents of Sumner, WA are proud of their clean, green city. The tree-planting activities and the annual Daffodil Parade testify to this.
Croach shares this commitment to protecting the environment. All our products are organically based and are rated for use in hospitals and animal clinics. When you use Croach, you gain the peace of mind knowing that you aren't exposing your family to harsh chemicals. You are also protecting the environment of Sumner WA.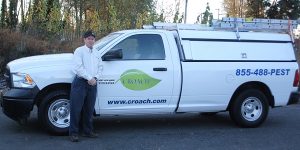 You can count on a skilled inspector, licensed and highly trained technicians, and a friendly, knowledgeable customer service staff.
As a company, our goal is to transcend industry requirements to provide you with exceptional pest control services far beyond the norm.
To achieve this goal and exceed your expectations, we offer FREE retreats between scheduled visits if a warrantied problem arises. We will also perform a thorough attic and crawl space insulation inspection as part of our initial inspection.
"Our new Technician Gregory, came on time. He called ahead to announce his arrival. He was wearing mask and gloves, and kept required distance. He did thorough survey of the house, including the crawl space. He determined where and what needs to be treated, he brought all the necessary materials from the car, and set up all that his treatment plan required. He explained everything, and answered all our questions. Greg was friendly and patient."
Read more from Elena R.
What Is the Croach Pest Control Process?
Insect Control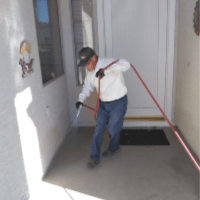 Unlike most companies, Croach® covers all basic pests with your insect control package. Our technician thoroughly inspects your home, inside and out, and presents a plan and frequency customized to your needs. Shortly after you sign your service agreement, we perform an initial service.
After your first service, you will see an increase in activity as bugs are driven from hiding. They will rapidly decrease. Your second service occurs thirty days after the first. This breaks the egg cycle and begins your guarantee.
It's crucial to maintain a regularly scheduled service to prevent re-infestation. We send a reminder before each service and confirmation after. With your service agreement, you are always assured that your Sumner, WA home, will remain insect-free.
Rodent Control
As with other services, rat and mouse control begins with an initial inspection, and two services thirty days apart.
During your first service, we place bait stations around your home. The bait draws rodents to them. Rats feel dehydrated and wander off the property in search of water, to expire elsewhere.
We also place traps in the home's crawlspace, out of your way, to eliminate any that go the wrong way. At regular services, we empty and reset traps as necessary.
As part of our commitment to your environment, we use one-time kill bait, keeping predators, and scavengers safe. We also remove corpses from your front yard and under the house between services, if necessary.
Let us know if you have a dead mouse smell under the floor.
Integrated Control
Integrated control combines insect and rodent packages. We perform services at the same time. This package adds greater security against rodents by removing bugs, which they use as a food source.
"Ryan, our technician is wonderfully personable, patient, and efficient. He is a good ambassador for this business here in Gig Harbor, WA."
Sumner, WA 98390
Local Exterminator
Integrated Pest Management Services
The city of Sumner likes to celebrate natural beauty. It is well known for its part in the Daffodil Festival. Less known but growing fast are the Rhubarb Days. We appreciate this commitment to agriculture and are happy to be part of your community.
Which makes us think of the nature you don't want to see. Sumner, like all Western Washington, is prone to long wet periods. During those times when rats, mice, ants, spiders, and other pests are trying to get into your home, we keep them out. The water and pests can also damage your insulation. We're here to help with that too.
Attic Insulation and Crawl Space Repair
Rodents and other pests can do a lot of damage and cause health concerns in the attic and crawl spaces of your home.
Many of our customers have found that they cannot sell their homes until they've completed a crawl space or attic renovation. Or they cannot rent an investment property until restoration and pest prevention is in place.
In addition, material decay and moisture play havoc with your insulation, which makes it ineffective for energy conservation in the home and drives up your energy bill.
Croach® provides professional repair and installation services for the insulated areas in your house. Our approach will ensure the safety and comfort of you and your family throughout the year and improve energy efficiency.
"Ryan, our technician is wonderfully personable, patient, and efficient. He is a good ambassador for this business here in Gig Harbor, WA."
Sumner, WA 98390
---
Sumner Service Area
Croach® services all Sumner neighborhoods from our location in town. Neighborhoods like Creekside, East Sumner, Elm St, Garden St, Mountainview, Puyallup St, Sumner View Point, and Village Dr.
Licensed, Bonded, Insured
WA Pest Control License #99029
WA Contractor Lic #PESTFF*894K4
Seattle Region: Sumner Location
Croach® Pest Control
13704 24th St E Ste A106
Sumner, WA 98390
253-331-2376
Google Reviews
Nearby Cities We Serve
Anacortes, Arlington, Auburn, Bellevue, Bellingham, Bonney Lake, Bothell, Buckley, Burlington, Camano Island, Everett, Federal Way, Ferndale, Issaquah, Kent, Kirkland, La Conner, Lakewood, Lynden, Lynnwood, Marysville, Monroe, Mount Vernon, Mukilteo, Oak Harbor, Olympia, Puyallup, Redmond, Renton, Seattle, Sedro-Woolley, Snohomish, Stanwood, Tacoma