Pest Control in Marysville, Washington
Croach® provides safe, effective pest control protection to residents in the Marysville, Washington area. Rid your home of uninvited rats, mice, spiders, bees and wasps, ants, carpenter ants, cockroaches, yard moles, deer mice, bed bugs and other pests.
Excellent Pest Control Standard of Service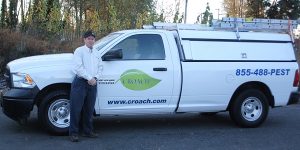 One of our primary company goals is providing you with pest control service that far surpasses normal expectation, by transcending industry requirements and standards.
To achieve this goal and exceed your expectations, we offer free retreats between scheduled visits for warrantied problems. We will also perform a thorough attic and crawl space analysis as part of our initial inspection.
Count on a skilled inspector, licensed and expertly trained technicians, and knowledgeable, friendly customer service staff during every interaction.
Local Marysville Exterminator
Integrated Pest Management Services
Marysville, the "Strawberry City" is the fastest growing city in Washington. With everything there is to do and see, that is no surprise. We love every service we are privileged to perform in this beautiful city. With Ebey Waterfront Park in the area, it is important to be on guard for rats and other pests that use it as a water source and breeding ground, then want to come into your home.
Your city is home to many unique attractions. Like Immersion, the escape room venue where you feel like the main character in a movie. If you want culture, there is the Hibulb Cultural Center & Natural History Preserve in town. Of course, you can always wrap up the day at the Tulalip Resort Casino or Seattle Premium Outlets, just across the freeway. Just don't gamble with your pest control.
"Thank you for another great service job. I appreciated your attention in making sure my little grandson and I were a safe distance away before spraying was started. A neighbor stopped by while you were servicing here and wanted the name of your company which your assistant supplied to her. Thanks again!"
"I am so happy to have connected with Randy and the Croach Company. The service was thorough and included treating all of the problem areas I was concerned about. I love the fact that the treatments are done with products which are made up of natural ingredients rather than harsh chemicals. Thanks Randy!"
More Pest Control Reviews from Nearby Customers
Free Pest Inspection
Customized Marysville Pest Control and Prevention Plans
Because your pest extermination needs are unique, we offer customized eradication and prevention options. Your program is designed specifically for your home and circumstances, to provide you with total peace of mind.
Croach® customizes your services and recurring treatment during all seasons to ensure continuous protection, and effective pest control in Marysville.
At your first free, comprehensive inspection we will:
Pinpoint existing pest problems and provide an intensive full-property analysis.
Identify potential areas of pest infestation to prevent them from occurring.
Review results with you, including an explanation of recommended treatment products and methods.
Attic Insulation and Crawl Space Repair
Croach® provides professional repair and installation services for the insulation areas in your home. Our approach will ensure the safety and comfort of you and your family and improve energy efficiency throughout the year.
Rodents and other pests can do a lot of damage and cause health concerns in the attic insulation and crawl spaces of your home.
Many of our customers have found that they cannot sell their home until they've completed a crawl space repair or attic renovation. Or they cannot rent an investment property until restoration and pest prevention is in place.
Beyond damage from nesting pests, material decay and moisture harm and destroy your insulation; making it less effective at energy conservation and driving up your utility bills.
"The * men who came out to remove the old material and do the work to seal off the rodent entry points were very professional in nature. They worked quickly and with a positive attitude. When they returned several days later the teamwork and ability to work together was impressive. I would gladly have them return - but I hope they don't need to in the future! Good team of workers all the way around!"
Contact Croach® for cost-effective pest control or insulation services in the Marysville, WA area.

Free Pest Inspection
---
Licensed, Bonded, Insured
WA Pest Control License #99029
WA Contractor Lic #PESTFF*894K4
Marysville Service Area
We proudly serve all Marysville neighborhoods, including Berry Farm, Berrywoods, Brookwood Heights, Cascade, Copper Creek, Denham, Harborview, Ivanhoe Estates, Meadow Park, Otter Creek, Quil, Ridgeline, Shoultes, The Ridge at Rock Creek, Village Green, and Wilderun.