Windsor Pest Control Services
Croach® provides customized, cost-effective pest control services for Windsor area homeowners and businesses. We are pest elimination and prevention specialists – not just exterminators. We build lasting relationships with our customers to keep their homes protected and pest-free.
Get Rid of Spiders, Rats, Mice, Ants, and Wasps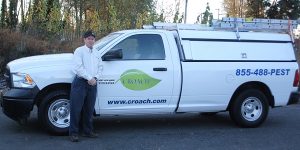 Pest management services in Windsor from Croach® work to safeguard your property and family from all these pests.
We've also got you covered for common pest problems such as deer mice, carpenter ants, hornets, yellow jackets, black widows, yellow sac, brown recluse, and hobo spiders.
Encountering them outside is one thing. It's when they try to join you in your home that they really become a problem. And the spiders we mention can be dangerous.
But no worries – Croach® technicians are thorough in removing unwanted guests from your home, within your budget.
Your pest extermination needs are unique. So we offer customized eradication and prevention options designed to provide you with total peace of mind.
Local Windsor Exterminator
Integrated Pest Management Services
Did you know there are over 40 miles of trails in the town of Windsor? Your city is committed to preserving nature, agriculture, the community's heritage and more through parks, recreation, and culture.
Windsor is also home to plenty of wildlife. Like rats, mice, spiders, ants, wasps, and more than 450 insects in the Colorado insect database you want to watch out for. They can be a nuisance, destructive to property, and pose health risks to you, your family, and your pets.