Get Pest Free
in Taylors, SC
Taylors is the most popular suburb of Greenville. Most residents own their homes and enjoy laid-back country living with the convenience of proximity to urban areas like Greenville and Charlotte. But pests also are attracted to the comfortable town-and-country lifestyle, keeping Taylors' homeowners on their toes.
✓ Get a free whole-house pest inspection – inside and out.
Mountains to Mills in Taylors
There is so much to love about Taylors, from the scenery of the Blue Ridge Mountains and nearby waterfalls to the innovative Taylors Mill shopping, dining and cultural center located within a historic textile mill. That's why residents trust Croach® pest control to keep insects and rodents in check, allowing them the leisure time to explore all the treasures of Taylors, and neighboring communities.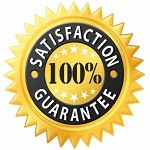 Retreats Guarantee
We guarantee a retreat of pest issues that arise between regularly scheduled services. Ask for more details when you sign up.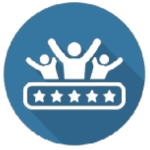 Thousands of Customer Reviews
Trust Croach® pest control reviews of friends and neighbors near Taylors and browse customer surveys of their pest management technicians.
Eco-friendly Pest Control
Your local Croach® pest control technicians employ leading-edge integrative pest management techniques. Our goal is to maximize pest control success while reducing environmental risks, because, like you, Croach® values our natural habitat.
Effective Pest Control is a Long-term Strategy
Our expert exterminators are adept at identifying which pest species are causing problems in your home or yard, and then they apply best practices to eradicate the pests. One-time extermination, however, is just the first step; not a long-term strategy.
Croach® prevents pests from returning using a process called exclusion, which blocks the pests from entering your property. And we put an end to recurring infestations by breaking the breeding cycle of pests. Our goal is to provide effective pest control, during every season, year-round.
Pest-free Satisfaction Guarantee
Your knowledgeable Croach® service technicians develop a customized treatment program to address your specific concerns. And if you ever experience pests between scheduled treatments, we'll give you an intermediate treatment to ensure your ongoing comfort and satisfaction.
Savor the good life in Taylors with the assurance that Croach® professionals have your pest management concerns under control.
Founded by a Visionary Peering into the Future
In the 1870s, Alfred Taylor invited the Southern Railway to run train tracks through his property, and offered the land for the depot, which became known as Taylor's Station. Today, residents of Taylors continue to benefit from Alfred Taylor's foresight in selecting an ideal location for both business and pleasure. The expert technicians at Croach® pest control, like Alfred Taylor, are vigilant for the most progressive practices available to keep your Taylors home pest free, now and in the future.
Taylors homeowners trust Croach® pest control to get rid of insects and rodent pests using eco-friendly solutions like Integrated Pest Management.
What is Integrated Pest Management?
IPM is a fancy name for what truly is a simple idea. The concept involves using care and forethought to dodge pest problems to begin with. And when pest problems do occur, they are treated with minimal chemical interventions.
The goal of IPM is to reduce the risk to people and the environment. As such, IPM is a long-term approach to pest control that goes far beyond do-it-yourself chemical extermination.
Your Croach® technician uses these IPM methods to suppress pests.
Cultural controls:
Pests are attracted to human settlement because we inadvertently provide everything they need to survive – food, water and shelter. Homeowners can easily get into good IPM habits, like emptying vessels of standing water, wiping up spills and crumbs, and keeping their houses tidy and vacuumed in order to reduce the establishment, reproduction and survival of pests.
Mechanical controls:
Traps are a type of mechanical control which remove pests without the use of chemicals.
Physical controls:
Preventing pests from entering your home or property is called exclusion. Your Croach® technician will locate breaches, and block holes, cracks or other access points so pests never make it into your space.
Chemical controls:
Your Croach® exterminator may need to apply chemical pesticides to target an infestation. We are very selective about the chemical products we use, and use them discreetly to maximize safety for your family and pets.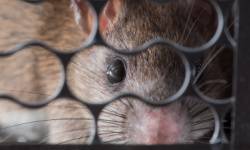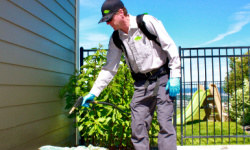 Top-Notch

These guys are absolutely amazing! Came across a large ant nest right next to the house, gave them a call and Daniel was here in less than 30 minutes! He took care of the issue, and took time to clean up and check out the rest of the house as well! Absolutely top-notch service and incredibly professional!!! Read more from Chaz H.
AMAZING!

Brayden was AMAZING! So professional and thorough. I've steered away from this type of service in the past due to the customer service issues, but this company has changed my mind. Brayden was friendly and professional, on-time and knowledgeable.
Read more Taylors reviews.
Pest Control Services by Croach® Exterminators Near Taylors
Get rid of
ants
,
carpet beetles
,
cockroaches
,
mice and rats
,
silverfish
,
spiders
,
termites
,
wasps
and other stinging, biting, crawling, and flying pests. We serve Taylors residents in single-family homes, apartments, HOAs, and light commercial buildings.
Extremely Pleased!

Daniel was so pleasant to work with and is very knowledgeable. He is always right on time and takes a lot of pride in his job. We have been extremely pleased with Croach, and look forward to being a customer for a long time!
Read more Taylors reviews.
Checked Everything!

Daniel was very professional. He let me know that he was here and proceeded to do his job. He was neatly dressed and clean. He checked everything, sprayed and left traps where needed. He let me know when he was finished and asked if there's was anything else we needed.
Read more from Frank B.
---
Live Pest Free!
Croach® offers environmentally-conscious and effective pest control services performed by professionally-trained exterminators. The goal of our family-operated business is to provide your family with long-term protection, and to proactively manage new problems, like the spotted lanternfly.
Save time and money with Croach® pest control services, so you and your family can spend more of your resources enjoying the good life in trendy Taylors.
Licensed, Bonded, Insured
SC Pest Control License # CA033446
Taylors Service Area
Croach® serves all Taylors neighborhoods, including Meadow Breeze, Pebble Creek, Old Mill Estate, Avon Park, Berkshire Park, Dogwood Terrace, Pinewood Estate, Edwards Forest, Kaledon Acres, Laurel Hills, Waters Grove, Moss Creek, Castleton, Riverbend Estates and Rockcrest.