Parker Pest Control Services
Croach® provides customized, cost-effective pest control services for Parker area homeowners and businesses. We are pest elimination and prevention specialists - not just exterminators. We build lasting relationships with our customers to keep their homes protected and pest-free.
Get Rid of Spiders, Rats, Mice, Ants, and Wasps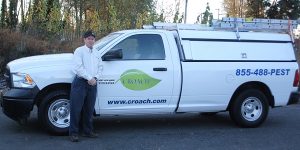 Croach® pest management services create a barrier to safeguard your family and property from all these bugs and pests in Parker.
We've also got you covered for common pest problems such as bed bugs, deer mice, carpenter ants, hornets, yellow jackets, black widows, yellow sac, brown recluse, and hobo spiders.
Encountering them outside is one thing. It's when they try to join you in your home that they really become a problem. And the spiders we mention can be dangerous.
But no worries - Croach® technicians are thorough in removing unwanted guests from your home, within your budget.
Your pest extermination needs are unique. So we offer customized eradication and prevention options designed to provide you with total peace of mind.
Local Parker Exterminator
Integrated Pest Management Services
If you live in Parker, you know you've got easy access to the culture and activities in both Denver and Colorado Springs. But you don't have to go that far to enjoy the Arts, theater, or the best festival on the front range.
Parker is also home to plenty of wildlife. We're not talking about lions, and coyotes, and bears - oh no. It's rats, mice, spiders, ants, wasps, and more than 450 insects in the Colorado insect database you want to watch out for. They can be a nuisance, destructive to property, and pose health risks to you, your family, and your pets.
---
"Keith has provided excellent service each and every time. He tells us what he is going to treat and after completion informs us of any pest problems that were encountered. Very courteous and professional. "
---
What You Can Expect During Your Initial Visit
Your home is thoroughly inspected. This initial checkup includes:
Identifying your existing pest issues
Diagnosing potential future pest problems
Reviewing results with you including an explanation of recommended treatment products and methods.
Croach® Credentials and Customer Benefits
Licensed, insured, and experienced technicians.
Customized pest control service plans specific to the Parker area.
Hi-tech solutions, that save you money and time, for ongoing prevention of pest and rodent infestation.
If you need them, we offer free retreats for warrantied services between appointments. Just give us a call.
---
"Keith has been our technician since we started with Croach and we couldn't be happier! Besides being knowledgeable in this field, he is such a pleasure to work with. He take pride in his work and is extremely respectful of our property. Keith goes above and beyond to make sure my family is completely satisfied. Thanks Keith for all you do!"
---
Parker Service Area Branch Office
Croach®
20100 E 32nd Pkwy Ste 110
Aurora, CO 80011
719-377-6776
Licensed, Bonded, Insured
CO License #16006
Parker Service Area
Croach proudly serves all Parker neighborhoods, including E Parker Rd/E Pinewood Dr, Franktown, Lone Tree, Melody Ln/E Inspiration Dr, The Pinery, Country Rd 174/County Rd 29, W Parker Rd/N Newland Gulch Rd, Stonegate, Baxter Dr/Clarke Farms Dr, and Tallman Dr/Club Dr.