Pest Control in Auburn, Washington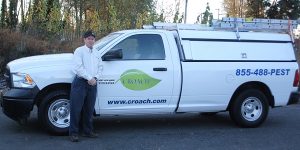 Croach® provides consistent, safe and effective pest control protection to residents in the Auburn, Washington area.
Get rid of ants, rats, mice, spiders, bees, wasps, cockroaches, yard moles, deer mice, carpenter ants, bedbugs and other uninvited bugs, insects and rodents.
Croach® proudly serves all Auburn neighborhoods including Downton Auburn, North Auburn, River's Bend, Christopher/Thomas, Lea Hill, Hazelwood, West Valley, West Hill, South Auburn, Terminal Park, Forest Villa, Lakeland Hills, Hidden Valley, and Muckleshoot.
"Matt did a great job, was friendly, professional, thorough and he listened to me as I explained my concerns. He was great."
Auburn Pest Control and Prevention Plans
You can count on a skilled inspector, licensed and highly trained technicians, and a friendly, knowledgeable customer service staff. As a company, our goal is to transcend industry requirements to provide you with exceptional pest control services far beyond the norm.
To achieve this goal and exceed your expectations, we offer FREE retreats between scheduled visits if a warrantied problem arises. We will also perform a thorough attic and crawl space analysis as part of our initial inspection.
Excellent Pest Control Standard of Service
Your pest extermination needs are unique. So we offer customized eradication and prevention options designed to provide you with total peace of mind.
For effective pest control in Auburn, Croach® personalizes a program of scheduled services throughout the year to ensure continuous protection.
The first free inspection is comprehensive. We will:
Pinpoint existing pest problems and provide an intensive full-property analysis.
Identify potential areas of pest infestation to prevent them from occurring.
Review results with you, including an explanation of recommended treatment products and methods.
"Randy was friendly, thorough, and timely. I really appreciated the work he did, and his willingness to go the extra mile."
Free Pest Inspection
---
Life is Good Here!
The Auburn city community has a sense of purpose and style. Home to Boeing's manufacturing plant, one might expect the city to be all business. The Giant Crow with a Box of Fries standing across from the public library proves that wrong. We're happy our bird control experts don't deal with anything that big.
Auburn has wonderful attractions where you can see animals and nature where they belong, as opposed to the rodents, spiders, and ants we keep out of your house. Watch the races at Emerald Downs or see a concert at White River Amphitheater. If you're adventurous, you can also check out the natural gas spurts at Flaming Geyser State Park.
Buying or Selling a Home Near Auburn?
The housing market in Auburn, WA provides many opportunities for those who are looking to either buy or sell a home. For homeowners in the area, it's important to stay on top of any pest related issues, including in the attic and crawl space. Pest control is a top challenge of homeownership, and Washington is an area that's known to have more pests than other states.
To enjoy the great opportunity that places like Auburn have to provide, you should ensure that you have a trustworthy real estate agent to help you navigate the market. Having a knowledgeable real estate agent will provide you with market information, resources, and will help with negotiating.
---
Attic Insulation and Crawl Space Repair

Rodents and other pests can do a lot of damage and cause health concerns in the attic insulation and crawl spaces of your home.
Many of our customers have found that they cannot sell their homes until they've completed a crawl space/attic renovation. Or they cannot rent an investment property until restoration and pest prevention is in place.
In addition, material decay and moisture play havoc with your insulation; which makes it ineffective for energy conservation in the home and drives up your energy bill.
Croach® provides professional repair and installation services for the insulation areas in your house. Our approach will ensure the safety and comfort of you and your family throughout the year and improve energy efficiency.
---
Free Pest, Attic, and Crawl Space Inspection
Licensed, Bonded, Insured
WA Pest Control License ##99029
WA Contractor Lic #PESTFF*894K4