Pest Control in Camano Island, Washington
Croach® provides regular pest control protection, on schedule, to residents in the Camano Island, Washington area. Sign up for bug control to get rid of spiders, cockroaches, ants, carpenter ants, bees and wasps, and bed bugs.
We offer rodent control to rid your home of rats, mice, and deer mice. Combine both for protection from all these, and other uninvited rodents, bugs, and insects. When needed we can add service for yard moles to the list.
Excellent Pest Control Standard of Service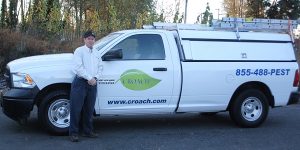 Count on friendly, professional interactions with your skilled inspector, licensed and highly trained technicians, and knowledgeable customer service staff.
Our company goal is to go above and beyond industry requirements and provide you with superior pest control services far beyond the norm.
In order to exceed your expectations, we provide FREE retreats if a warrantied problem arises between scheduled visits. Also, a thorough attic and crawl space analysis are performed during our initial inspection.
"Peter was very responsive and easy to work with. He worked hard throughout the day, discussed the progress with me, and cleaned up thoroughly. Additionally he went above and beyond building a nice door with handle to the crawl space, and adding gravel at the entrance. Service was exceptional!!"
"Alex was excellent, thorough and patient. He provided a specific description of service and issues, and expedited a crawl space inspection for us. Great job!"
More Pest Control Reviews from Nearby Customers

Free Pest Inspection
Local Camano Island Exterminator
Integrated Pest Management Services
Like much of Washington, Camano Island is full of natural beauty. You can see this on a camping trip at the Camano Island State Park or hiking the Iverson Spit conservation area. If you want an adventure, Canopy Tours NW adds the excitement of ziplines to the trees.
You also have wonderful shopping with the Camano Commons Marketplace. The Matzke Fine Art Gallery and Sculpture Park represents talent from the local area and beyond. Camano Island is known for spreading the structures out for a low impact on the environment, and understands what belongs outside and what to bring in.
As an island, rodents are a real threat. We know how to keep them and other pests out of your home with eco-friendly solutions that keep your island safe.
Customized Camano Island Pest Control and Prevention Plans
Your home's pest extermination needs are unique. We customize eradication and prevention options to your situation, in order to provide you with total peace of mind. For effective Camano Island pest control, Croach® personalizes your program and year-round service schedule to ensure continuous protection.
During your free, comprehensive inspection, we will:
Pinpoint existing pest problems and provide an intensive full-property analysis.
Identify potential areas of pest infestation to prevent them from occurring.
Review results with you, including an explanation of recommended treatment products and methods.
Attic Insulation and Crawl Space Repair
Rodents and other pests can do a lot of damage and cause health concerns in the attic insulation and crawl spaces of your home. Moisture and decay also erode your insulation over time. Compromised or missing insulation reduces its efficiency, lessens energy conservation, and drives up home energy bills.
Many of our customers have found that they cannot sell their home until they've completed a crawl space repair or attic renovation. Or they cannot rent an investment property until restoration and pest prevention is in place.
Good news, professional repair and installation services for the insulation areas in your house are available from Croach®. Our approach ensures the safety and comfort of you and your family and improves energy efficiency from summer to winter and in between.
Contact Croach® for cost-effective pest control or insulation services in the Camano Island, WA area.
Free Pest Inspection
---
Camano Island Service Area
Croach serves all Camano Island neighborhoods, including Madrona Beach, Rockaway Beach, Utsalady, Driftwood Shores, Mabana, and Bretland.
Licensed, Bonded, Insured
WA Pest Control License #99029
WA Contractor Lic #PESTFF*894K4