Pest Control in Coupeville, Washington
Croach® provides regular, reliable pest control protection to Coupeville, Washington area residents. Rid your home of yard moles, deer mice, ants, rats, mice, spiders, bees and wasps, cockroaches, carpenter ants, bed bugs and other uninvited rodents, insects, and bugs.
Excellent Pest Control Standard of Service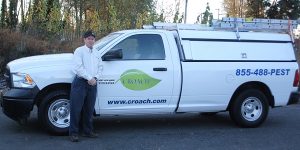 Count on a skilled inspector, licensed and highly trained technicians, and a friendly, knowledgeable customer service staff.
As a company, our goal is to transcend industry requirements and provide you with exceptional pest control services that far surpass the norm.
To achieve this goal and exceed your expectations, we offer complimentary retreats, between scheduled visits, on the rare occasion that a warrantied problem arises. We also include a thorough attic and crawl space analysis as part of the initial inspection.
Local Coupeville Exterminator
Integrated Pest Management Services
Coupeville is a town located in the Ebey's Landing National Historical Reserve. It is the only town in the U.S.'s first National Historical Reserve. Another distinction of Coupeville is that it is in the rain shadow of the Olympic Mountains. While you might think getting less rain is good, it gives spiders, rats, and ants a longer active season and better chance of surviving before the weather drives them into houses and historic building in the area.
With its location on the water, there are plenty of aquatic and fishing attractions. There is also Fort Casey Historical Park, which contains Admiralty Head Lighthouse. If you're interested in learning about history indoors there is always the Island County Historical Society Museum. All told, Coupeville has a lot of buildings worth protection.
Free Pest Inspection
Customized Coupeville Pest Control and Prevention Plans
Your pest extermination needs are as unique as your home. We design a prevention and eradication plan customized for your home. This is how we provide you with absolute peace of mind.
A personalized pest control program from Croach® in Coupeville provides a schedule of effective services throughout the year, ensuring continuous protection.
During your initial pest inspection is free. We will:
Pinpoint existing pest problems and provide an intensive full-property analysis.
Identify potential areas of pest infestation to prevent them from occurring.
Review results with you, including an explanation of recommended treatment products and methods.
"Cassandra did a great job. We had concerns about bats in our attic. Cassandra confirmed that no bats had entered the attic but there were a couple potential entry points. She sealed off the entry points so we have no concern about this becoming a problem. Cassandra is knowledgeable very professional."
"We had three technicians remove the old and put down a new vapor barrier. They also removed some very old construction material and rodents. They were right on time and worked quickly. They also did a nice clean up. I would highly recommend them to anyone in need."
Attic Insulation and Crawl Space Repair
Rodents and other pests can do a lot of damage and cause health concerns in the attic insulation and crawl spaces of your home. Moisture and decay also erode your insulation over time. Compromised or missing insulation reduces its efficiency, lessens energy conservation, and drives up home energy bills.
Many of our customers have found that they cannot sell their home until they've completed a crawl space repair or attic renovation. Or they cannot rent an investment property until restoration and pest prevention is in place.
Additionally, moisture and material decay erode your insulation; making it ineffective at home energy conservation and driving up your energy bills.
Croach® offers professional installation and repair services for the insulated areas in your home. Our methods ensure safety and comfort for you and your family while improving energy efficiency throughout the year.
Contact Croach® for cost-effective pest control or insulation services in the Coupeville, WA area.
Free Pest Inspection
---
Coupeville Service Area
Croach treats your residence with respect, and services all Coupeville neighborhoods, including, Admiral's Cove Beach, Donahey, Race Lagoon Heights, Holly Berry, West Beach, and San De Fuca.
Licensed, Bonded, Insured
WA Pest Control License #96366
WA Contractor Lic #PESTFF*894K4