Pest Control in Federal Way, Washington
Croach® provides reliable, safe and consistent pest control protection to residents in the Federal Way, Washington area. Get rid of nuisance ants, rats, mice, spiders, bees and wasps, cockroaches, yard moles, deer mice, carpenter ants, bed bugs and other uninvited bugs, insects or rodents.
Excellent Pest Control Standard of Service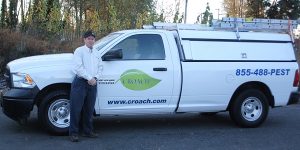 You can count on a skilled inspector, licensed and highly trained technicians, and a friendly, knowledgeable customer service staff.
As a company, our goal is to transcend industry requirements to provide you with exceptional pest control services far beyond the norm.
To achieve this goal and exceed your expectations, we offer FREE retreats between scheduled visits if a warrantied problem arises. We will also perform a thorough attic and crawl space analysis as part of our initial inspection.
"Jason was awesome! Huge THANK YOU for working with my schedule and short notice. You guys are the best!"
Local Federal Way Exterminator
Integrated Pest Management Services
Weyerhaeuser may be gone but the city of Federal Way puts the land they were on to good use. That Pacific Bonsai Museum and the Rhododendron Species Botanical Garden are wonderful places to go and see trees and flowers. Of course, there are the many parks too. Places like West Hylebos Wetlands Park, where you can see a variety of plants and animals. That makes us think of pests you don't want around, like rats, ants, spiders, and wasps.
As a waterfront city, Federal Way is unique in Washington in its commitment to the water. Boasting the Weyerhaeuser King County Aquatic Center, which house an Olympic size pool used in the 1990 Goodwill Games. It is also home to the area's only permanent theme park in the form of Wild Waves. Is it any wonder we enjoy working in your town?
Free Pest Inspection
Customized Federal Way Pest Control and Prevention Plans
Your pest extermination needs are unique. So we offer customized eradication and prevention options designed to provide you with total peace of mind.
For effective pest control in Federal Way, Croach® personalizes a program of scheduled services throughout the year to ensure continuous protection.
The first free inspection is comprehensive. We will:
Pinpoint existing pest problems and provide an intensive full-property analysis.
Identify potential areas of pest infestation to prevent them from occurring.
Review results with you, including an explanation of recommended treatment products and methods.
Attic Insulation and Crawl Space Repair
Rodents and other pests can do a lot of damage and cause health concerns in the attic insulation and crawl spaces of your home. Moisture and decay also erode your insulation over time. Compromised or missing insulation reduces its efficiency, lessens energy conservation, and drives up home energy bills.
Many of our customers have found that they cannot sell their home until they've completed a crawl space repair or attic renovation. Or they cannot rent an investment property until restoration and pest prevention is in place.
In addition, material decay and moisture play havoc with your insulation; which makes it ineffective for energy conservation in the home and drives up your energy bill.
Croach® provides professional repair and installation services for the insulation areas in your house. Our approach will ensure the safety and comfort of you and your family throughout the year and improve energy efficiency.
"We had three technicians remove the old and put down a new vapor barrier. They also removed some very old construction material and rodents. They were right on time and worked quickly. They also did a nice clean up. I would highly recommend them to anyone in need."
Contact Croach® for cost-effective pest control or insulation services in the Federal Way, WA area.

Free Pest Inspection
---
Licensed, Bonded, Insured
WA Pest Control License #99029
WA Contractor Lic #PESTFF*894K4
Federal Way Service Area
Croach® proudly serves all Federal Way neighborhoods, including Applewood, Bayview, Camelot, Danville Station, Emery Woods, Healy Palisades, Kitts Corner, Lakota, Mark Twain, Northlake Rim, Regency Woods, Stonecreek, Twin Lakes, Ventana, and Wildwood.