Pest Control in Ferndale, Washington
Croach® delivers reliable, consistent pest control that the residents of Ferndale and the surrounding area have learned to count on. Rely on our trustworthy pest protection services for unwanted pests like ants, rats, mice, spiders, bees and wasps, cockroaches, yard moles, voles, deer mice, carpenter ants, bed bugs and others out of your home, and keep them out.
The Standard of Excellence in Pest Control Service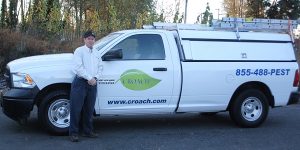 Our goal is to provide you with pest control services that go far above and beyond the norm. To do this, we consistently strive to transcend industry requirement and set a new bar for excellence.
Count on a memorable experience every time you interact with one of our highly trained, licensed technicians, skilled inspector, and friendly knowledgeable customer service representatives.
Performing complimentary retreats between scheduled visits on warrantied problems, and performing a thorough attic and crawl space analysis during our initial inspection are just some of the ways we raise the bar on service standards.
Local Ferndale Exterminator
Integrated Pest Management Services
Ferndale is a city committed to its community and its environment. This is easy to see from the annual city-wide cleanup day and being home to the Sardis Raptor Center. We are with you, which is why we use eco-conscious pest solutions, including our certified one time kill rodent bait, which protects birds of prey that might eat the rats and mice.
Named for the ferns that grew around the original schoolhouse, your city has so many beautiful attractions. During the summer, you can stop by Red Barn Lavender and see the many species of lavender in bloom, and the view of Mt. Baker. From August through fall, consider stopping my Sm'Apples Orchard for some amazing local produce.
"Very friendly fellow, which was nice but the most important thing was his thorough work around my house! Terrific job!"
"Robert was polite, fast and efficient."
More Pest Control Reviews from Nearby Customers
Free Pest Inspection
Customized Ferndale Pest Control and Prevention Plans
Your pest extermination needs are as unique as your home. Don't settle for a one size fits all service. We offer customized eradication and prevention options designed for your situation, to provide a pest-free environment and complete peace of mind.
Effective pest control in Ferndale begins with Croach® personalizing a program and service schedule. Regular treatments, through all seasons, ensure uninterrupted protection.
During your free, comprehensive inspection we:
Pinpoint existing pest problems and provide an intensive full-property analysis.
Identify potential areas of pest infestation to prevent them from occurring.
Review results with you, including an explanation of recommended treatment products and methods.
Attic Insulation and Crawl Space Repair
Rodents and other pests can do a lot of damage and cause health concerns in the attic insulation and crawl spaces of your home. Moisture and decay also erode your insulation over time. Compromised or missing insulation reduces its efficiency, lessens energy conservation, and drives up home energy bills.
Many of our customers have found that they cannot sell their home until they've completed a crawl space repair or attic renovation. Or they cannot rent an investment property until restoration and pest prevention is in place.
Additionally, moisture and material decay compress and damage insulation; increasing your energy bills by reducing its efficiency at energy conservation.
Croach® provides professional insulation installation or repair services for your house. Our method improves energy efficiency and defends the safety and comfort of you and your family throughout the year.
Contact Croach® for cost-effective pest control or insulation services in the Ferndale, WA area.

Free Pest Inspection
---
Licensed, Bonded, Insured
WA Pest Control License #99029
WA Contractor Lic #PESTFF*894K4
Ferndale Service Area
We safely keep pests out of your home in all Ferndale neighborhoods, including Cedar Creek, Deer Creek, East of the Tracks, Evergreen, Fallbrook, Ferndale, Grandview, Lake Terrell, Mountain View, Portal Mano, Sandy Point, Ten Mile Creek, West Cedar Park, and Whisky Creek.