Pest Control in Issaquah, Washington
Residents of the Issaquah, Washington area count on Croach® to provide safe, effective pest control protection. Get rats, mice, spiders, bees and wasps, ants, carpenter ants, cockroaches, yard moles, deer mice, bed bugs and other pests out of your home quickly, and keep them out.
Excellent Pest Control Standard of Service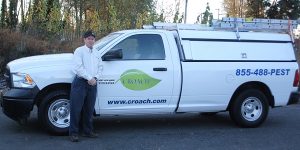 As a company, we strive to provide you with pest control service that far exceeds normal expectations. One of our overriding goals is to transcend industry requirements and standards.
To surpass your expectations, and reach this goal, we provide free retreats, between scheduled visits, if a warrantied problem arises.
Also, a thorough attic and crawl space analysis is part of your initial inspection.
Our commitment to service means your interactions are always with expert inspectors, licensed, highly skilled, and thoroughly trained technicians, and friendly, knowledgeable customer service staff.
Local Issaquah Exterminator
Integrated Pest Management Services
Issaquah is a city that understands how important nature and tradition are. Located in Gillman Village is XXX Rootbeer, a drive-in that has stood the test of time. The jukeboxes at the table don't work anymore but remind customers that this place has been around.
With attractions like Cougar Mountain Zoo, and of course Treehouse Point, a treehouse hotel where you can relax, or even have your wedding, in a beautiful forest setting, the commitment to your environment is obvious.
Just like it is with the Salmon Days Festival. Like you, Croach is committed to keeping chemicals out of the water, protecting older buildings, and keeping animals in the wild. Don't let rats, mice, spiders, ants, wasps, and other pests invade your Issaquah home.
"Will performed our first service. He was very friendly, explained the treatment plan and quickly did his work. I'm very impressed with his work. Thanks again, Will!"
"Very informative, professional and friendly"
More Pest Control Reviews from Nearby Customers
Free Pest Inspection
Customized Issaquah Pest Control and Prevention Plans
Your property is as individual as you, which makes your pest extermination needs unique. We design eradication and prevention options for each customer's situation. Your program is designed specifically for your home and circumstances. Providing you with complete peace of mind.
Croach® customizes recurring treatment, as well as your service, providing recurring control during all seasons to ensure continuous protection, and effective pest control in Issaquah.
At your no cost, comprehensive inspection we will:
Pinpoint existing pest problems and provide an intensive full-property analysis.
Identify potential areas of pest infestation to prevent them from occurring.
Review results with you, including an explanation of recommended treatment products and methods.
Attic Insulation and Crawl Space Repair
Croach® performs professional insulation repair and installation services for your home. Our approach not only ensures safety and comfort for you and your family, but it also improves energy efficiency year-round.
Rodents and other pests can do a lot of damage and cause health concerns in the attic insulation and crawl spaces of your home. Moisture and decay also erode your insulation over time. Compromised or missing insulation reduces its efficiency, lessens energy conservation, and drives up home energy bills.
Many of our customers have found that they cannot sell their home until they've completed a crawl space repair or attic renovation. Or they cannot rent an investment property until restoration and pest prevention is in place.
Damage comes from more than nesting pests. Material decay and moisture degrade and destroy your insulation; so it is less effective at energy conservation. Which drives up your utility bills.
Contact Croach® for cost-effective pest control or insulation services in the Issaquah, WA area.

Free Pest Inspection
---
Licensed, Bonded, Insured
WA Pest Control License #99029
WA Contractor Lic #PESTFF*894K4
Issaquah Service Area
Croach® serves all Issaquah neighborhoods, including Alpen Glow, Cougar Mountain, Discovery Heights, Elderwood, Family Village, Grandridge, Hunters Place, Issaquah Highlands, Kempton Downs, Lakemont Orchard, Montreux, North Cedar Grove, Pickering, Sammamish Pointe, Sycamore, The Brownstones, Upper Preston, and West Highlands Park.