Pest Control in Monroe, Washington
Count on regular, effective pest control services in the Monroe, Washington area. Croach® rids your home of rats, mice, bees and wasps, ants, spiders, cockroaches, yard moles, deer mice, carpenter ants, bed bugs and other detrimental rodents, bugs, and insects.
Excellent Pest Control Standard of Service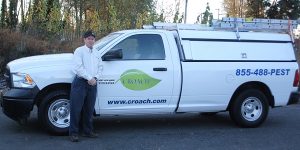 With our licensed and highly trained technicians, skilled inspector, and friendly, knowledgeable customer service staff you can count on an excellent interaction every time.
Our company's aim is to meet and surpass all industry requirements in providing you with pest control services that are far beyond the norm.
How do we reach this goal and exceed your expectations? First, by providing FREE retreats between scheduled visits, if a warrantied problem arises. Also, a thorough attic and crawl space analysis are both included during our initial inspection.
"Randy performed another preventive treatment around my home. Randy is always enthusiastic about his job and quality products his company provides. I have tried others and was disappointed due to weak solutions that seemed to work for less than a week. Keep up the great work!"
Local Monroe Exterminator
Integrated Pest Management Services
Monroe is home to one of our favorite places in Washington, the Reptile Zoo. Sure, you may think lizards and snakes are creepy, but they eat spiders, ants, mice, and rats. So we appreciate them. As long as they aren't in our house.
If we are keeping spiders away, and you need something else to get your blood racing, you can always stop by the Evergreen Speedway. If you're looking for a local business, which we appreciate, you can patronize Rusty Relics Vintage Market or one of their vendors. While Monroe is true to its roots, your town as grown into more than the agricultural center it started as.
Free Pest Inspection
Customized Monroe Pest Control and Prevention Plans
We personalize your eradication and prevention program. Making it as unique as your pest extermination needs.
For effective pest control, and to provide you with complete peace of mind, in Monroe, Croach® customizes a service schedule so you receive continuous protection throughout the year.
The first free inspection is comprehensive. We will:
Pinpoint existing pest problems and provide an intensive full-property analysis.
Identify potential areas of pest infestation to prevent them from occurring.
Review results with you, including an explanation of recommended treatment products and methods.
"Walter did an exceptional job. He explained what he was going to do and also informed us that he would check our crawl space. I did not want to do it at this time because I would have to remove several items from the area. He said he would note it and they could complete on the next visit. He was very professional."
More Pest Control Reviews from Nearby Customers
Attic Insulation and Crawl Space Repair
Rodents and other pests present a serious threat to your home's
attic and crawl spaces
. The damage they cause would be enough on their own, but they also bring health risks with them.
Selling your home or renting an investment property is not the time to find out you need a crawl space/attic renovation. Protect your investment and find out if you need restoration and pest prevention in place before lack for them can delay your plans.
Additionally, material decay and moisture damage and destroy insulation and invite pest infestation. For effective home energy conservation and decreased energy bills, nothing beats new, properly maintained insulation.
Professional installation and repair services from Croach® ensure the comfort and safety of your family and improve energy efficiency in all seasons. Our approach also refreshes and protects the insulated areas of your home.
Free Pest Inspection
---
Licensed, Bonded, Insured
WA Pest Control License #70991
WA Contractor Lic #PESTFF*894K4
Monroe Service Area
Call Croach for service if you are in any of the Monroe neighborhoods, like Armor Heights, Blueberry Ln, Bllenbaugh Hill, Cedar Ponds, Chain Lakes, Downtown Monroe, Foothills, High Rock, Mt. Forest, Olsen, Sinclair Heights, Trombley Hill, and Woods Creek.
We also service Anacortes, Arlington, Auburn, Bellevue, Bellingham, Bonney Lake, Bothell, Buckley, Burlington, Camano Island, Coupeville, Eatonville, Everett, Federal Way, Ferndale, Issaquah, Kent, Kirkland, La Conner, Lake Cavanaugh, Lakewood, Lynden, Lynnwood, Marysville, Mount Vernon, Mukilteo, Olympia, Oso, Oak Harbor, Puyallup, Redmond, Renton, Seattle, Sedro-Woolley, Snohomish, Stanwood, Sumner, and Tacoma.