Hudson Pest Control Services
Croach® provides customized, cost-effective pest control services for Hudson area homeowners and businesses.
Get Rid of Spiders, Rats, Mice, Ants, and Wasps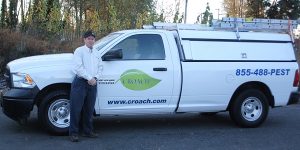 We've got you covered for common pest problems such as ants (including carpenter ants), spiders (such as black widows, yellow sac spiders, brown recluse, and hobo spiders), roaches, wasps like hornets and yellow jackets, silverfish, bed bugs, and even carpet beetles.
Hudson pest management services from Croach® protect your family and property from these and other pests.
Encountering them outside is one thing. It's when they try to join you in your home that they really become a problem. And the spiders we mention can be dangerous.
Local Hudson Exterminator
Integrated Pest Management Services
The town of Hudson has some great recreational venues including the Vintage Aero Flying Museum and the events at Hudson Gardens.
Rain or snow occurs in Hudson 8 to 9 months of the year. Therefore, pests like rats, mice, spiders, and ants will often seek long-term shelter and food sources inside your home to stay safe and warm. There are over 450 insects databased for the state of Colorado that can squeeze through tiny cracks and hitchhike inside on your clothing to invade your home. Rapid breeding worsens the problem.
But no worries - Croach® technicians are thorough in removing unwanted guests from your home, within your budget. Your pest extermination needs are unique. So we offer customized eradication and prevention options designed to provide you with total peace of mind.
---
"Great service, always a job well done. I am especially appreciative of the removal of wasps that I didn't even know about!"
Steven W.
---
What You Can Expect During Your Initial Visit
Your home is thoroughly inspected. This initial checkup includes:
Identifying your existing pest issues
Diagnosing potential future pest problems
Reviewing results with you including an explanation of recommended treatment products and methods.
Croach® Credentials and Customer Benefits
Licensed, insured, and experienced technicians.
Customized pest control service plans specific to the Hudson area.
Hi-tech solutions, that save you money and time, for ongoing prevention of pest and rodent infestation.
If you need them, we offer free retreats for warrantied services between appointments. Just give us a call.
---
"Everyone at Croach is amazing! Keith is our usual technician, and it is always a pleasure to interact with him. They go above and beyond with their customer service. We have been using them for years and they are always consistently awesome!"
Sarah K.
More Pest Control Reviews from Nearby Customers
---
Licensed, Bonded, Insured
CO License #16006
Free Pest Inspection