Albany, OR Pest Control For Your Home
Croach® provides effective pest management and elimination for Albany, Oregon residents. Our dedicated inspectors and technicians find and rid your home of cockroaches, spiders, wasps, ants, rodents, stink bugs, and other pests.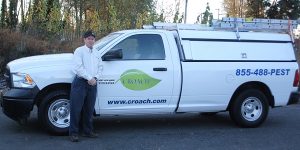 Our pest control offering provides a range of services and protection plans designed to provide you with the best long-term solutions.
As a result, you, your family, home and pets will be protected from the health risks, damage and annoyance of pest infestations.
The Pride of Albany
With a moderate climate, Albany is one of those places that bugs thrive year-round. During the colder months, they do love to move inside and under your house.
Of course, Albany knows a thing or two about protecting wood from pests, proven by both the history in the timber industry and the more recent Historic Carousel & Museum. With the amazing craftsmanship, we're not surprised they skipped putting any bugs in the rotation. Guess we'll have to stick with Cricket, the Mustang.
Residents can visit the Talking Water Gardens for free and see some beautifully restored wildlife habitats. Remember not to feed the wildlife. Also, remember at home there are other creatures like rats, mice, spiders, and ants that we want to keep outside.
Our Extensive Pest Control Process
During Albany, OR pest control services, our licensed technician will:
✅ Inspect the interior and exterior of your home, pinpointing current and possible future pest problems.
✅ Review our findings and present you with the best solutions to remove pests and prevent further issues.
✅ Explain the products and methods we use for pest treatment. We also review our safety measures to protect your home, family, and pets.
Free Pest Inspection
Personalized Albany, OR Pest Control Plans and Prevention
Your home and pest control needs are unique, so we offer strategized elimination and prevention options created to bring you results and peace of mind.
Our treatment plans are thorough and based on the needs of your home and family.
✅ Interior treatment. To flush pests out of your home and prevent others from entering. Interior treatments are always complimentary at the time of service, upon request.
✅ De-webbing and wasp nest removal. Croach® technicians thoroughly inspect your home and property to remove spider webs and wasp nests.
✅ Exterior Treatment. We create a liquid barrier against pests at potential entry points, including eaves, windows, doors, and your homes foundation.
✅ Granulation. To prevent potential pests from nesting on your property.
Croach® Pest Control Service Guarantee
If a problem occurs between scheduled, warrantied service visits, Croach® will re-treat your home free of charge.
Albany, Oregon Pest Control Reviews

"I want to take this opportunity to express my gratitude for the exemplary service provided by Croach. They were thorough, focused, and incredibly cognizant of our level of comfort while in our home. The job was finished with such efficiency, I couldn't have been more impressed..."
---

"We've been using Croach for a little over a year now and absolutely love their service. The customer service and professionalism of their team is the best we've received in pest services, and their product has kept the spider and pest issues to close to nil!"
---

"Croach has some of the best and most professional staff for home pest control service. The team on the phones and in the field are always the best! Never have pest issues which we love."
---
Exceptional Pest Control Standards
Due to experienced inspectors, licensed technicians, and a knowledgeable customer service staff, we exceed current industry standards for pest control.
Our standards:
✅ FREE retreats. For warranty problems between scheduled visits.
✅ Hi-tech solutions. Saving you time and money from continuous pest and rodent infestations.
✅ Customer feedback. We take action to improve our service and enhance our solutions.
Call Croach® today at (503) 430-5974 or schedule your inspection online for Albany, OR pest control services. Or visit our Portland Region Pest Control page for more information on our service areas.
Free Pest Inspection
Licensed, Bonded, Insured
WA License #70991
OR License #AG-L1021171CPO
Albany Pest Control Near Me
Croach® serves the Albany neighborhoods of North Albany, Pacific Blvd SW/12th Ave SW, Columbus St SE/Ellingson Rd SE, Grand Prairie Rd SE, Santiam Hwy SE/Waverly Dr SE, Marion St SE/Queen Ave SE, Jackson St SE/9th Ave SE, City Center, and Moraga Ave SE with dedication and pride.