Professional Tigard, Oregon Pest Control
At Croach®, we understand that pest elimination and prevention is crucial for Tigard, Oregon residents.
Tigard a Center of Tax-Free Shopping
From Washington Square to Bridgeport Village and beyond, Tigard is known throughout the Northwest as the center of tax-free shopping. In fact, Bridgeport Village is especially known for its spacious, open shopping area and recreation areas.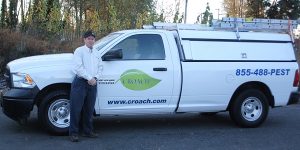 Of course, when we think of staying free from things our minds go to pests.
Speaking of bugs, we like them as they appear in Legacy Funland. In this case, as sculptures that don't dig into the house or bite the children. For a kid-friendly attraction, this is one of the best in the country.
We provide a professional, thorough pest inspection, taking care to find spiders or wasps, rodents, ants, stink bugs, and other pests that may have invaded your home. Your Tigard, OR pest control proposal is customized for your needs and budget.
Your Tigard, OR Pest Control Inspection
At your initial inspection, our specialized technician will:
✅ Find out your concerns and any pests you have encountered.
✅ Conduct a thorough inspection to identify pest issues.
✅ Present our findings to you and offer solutions in detail.
✅ Explain our process, products and safety measures.
✅ Answer all questions you may have.
Free Pest Inspection
Tigard, Oregon Pest Control Reviews

"Always on-time or early for appointments. Professional and friendly service. The flies, spiders and ants are under control, not in my house. I have the exterior sprayed and that keeps the slugs and other bugs away from the house."
---

"We used to have spiders and lots of sugar ants. Now we don't even have to think about it. Great service. Good value."
---

"Cost effective pest management. Prompt, professional and timely home pest control."
View More Google Reviews and Customer Reviews.
---
Croach® Excellence
We take pride in our service standards, which ensure we offer the most complete and efficient treatments available in the pest control industry.
Undergoing extensive and continued training ensures that our licensed technicians can provide you with the best service. Continually reviewing their job performance keeps our services consistent and reliable.
We meet your immediate pest control needs with a customized strategy for your home. We also create a flexible ongoing maintenance schedule to maintain a pest-free environment for you and your family.
Results You Can Trust
At Croach®, we will re-treat your home at no cost to you if you experience a pest problem between scheduled service visits.
You shouldn't have to live with the danger and annoyance of pests or rodents in your home. Partner with us to rid your home of these unwanted visitors and keep them out.
Call Croach® today at (503) 430-5974 or schedule your inspection online.
Or visit our Portland Region Pest Control page for more information on our service areas.
Free Pest Inspection
Licensed, Bonded, Insured
WA License #70991
OR License #AG-L1021171CPO
Tigard Pest Control Near Me
We service all the neighborhoods in Tigard, including SW Beef Bend Rd/SW Roy Rogers Rd, SW Bull Mountain Rd/SW 132nd Ave, SW Roshak Rd, Metzger, SW 72nd Ave/SW Bonita Rd, SW Gaarde St/SW Pacific Hwy, SW 121st Ave/SW Scholls Ferry Rd, SW Walnut St/SW 116th Ave, SW Durham Rd/SW Summerfield Dr, and Tigard City Center from our offices in Beaverton, just over ten minutes away.