Pest Control in Lynnwood, Washington
Residents of the Lynwood Washington area count on Croach® for dependable, regular pest control protection. We get rid of your uninvited pests such as bed bugs, spiders, ants, rats, mice, bees and wasps, cockroaches, yard moles, deer mice, carpenter ants and hemlock woolly adelgids.
Excellent Pest Control Standard of Service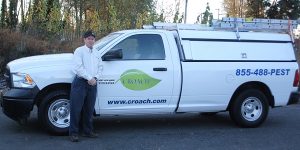 Our driving company goal is to provide next tier pest control service, transcending industry standards and requirements, every visit.
We only employ skilled inspectors, licensed and highly trained technicians, and a friendly, knowledgeable customer service staff who deliver amazing results and exceptional interaction every time.
One way we exceed your expectations and meet this goal is by providing complimentary retreats between regular visits, on the rare occasion that a warrantied problem arises. Additionally, your initial inspection includes a thorough analysis of your attic and crawl space.
"Tyson is exceptional at what he does as a technician. He is very knowledgeable and thorough, always asking questions verifying my needs and expectations have been met. He is a pure joy to have come assess my home because he appears to care a lot about his job, and I want to acknowledge him for a job well done each time. Tyson is an asset to your company!"
"Benjamin was terrific! Thoroughly explained everything and took his time to make sure the job was done to my satisfaction. I would definitely recommend Croach to anyone that needs pest treatment services! Thank you!"
More Pest Control Reviews from Nearby Customers
Free Pest Inspection
Local Lynnwood Exterminator
Integrated Pest Management Services
Lynnwood is a bedroom community for both Everett and Seattle, with a small percentage of residents working in town. It is not surprising you want a place that's unique when you come home. Known for the Alderwood Mall, and the Lynnwood Convention Center, along with many parks and open spaces, there is so much more than you can see driving through on Highway 99.
Lynnwood loves their pets as much as we do. This is evident with the number of animal-friendly areas and businesses, like Hippie Hounds Grooming and Self Wash.
Perhaps nobody will ever be able to explain why the city has a statue of the Blues Brothers with their pants on fire. Maybe they were trying the worst possible method of pest control. Probably not, but when you're in need of safe, effective pest control, Croach® has you covered.
Customized Lynnwood Pest Control and Prevention Plans
Croach® customizes your program to meet your unique pest extermination needs. We offer personalized eradication and prevention options with scheduled visits throughout the year, designed to provide continuous protection and complete peace of mind.
What we do during the first free, comprehensive inspection:
Pinpoint existing pest problems and provide an intensive full-property analysis.
Identify potential areas of pest infestation to prevent them from occurring.
Review results with you, including an explanation of recommended treatment products and methods.
Attic Insulation and Crawl Space Repair
Rodents and other pests can do a lot of damage and cause health concerns in the attic insulation and crawl spaces of your home. Moisture and decay also erode your insulation over time. Compromised or missing insulation reduces its efficiency, lessens energy conservation, and drives up home energy bills.
Many of our customers have found that they cannot sell their home until they've completed a crawl space repair or attic renovation. Or they cannot rent an investment property until restoration and pest prevention is in place.
Croach® provides professional repair and installation services for your home's insulation areas. Our approach improves energy efficiency and ensures the safety and comfort of you and your family throughout the year.
Contact Croach® for cost-effective pest control or insulation services in the Lynnwood, WA area.
Free Pest Inspection
---
Licensed, Bonded, Insured
WA Pest Control License #99029
WA Contractor Lic #PESTFF*894K4
Lynnwood Service Area
We proudly serve all Lynnwood neighborhoods, including Alderwood Heights, Alderwood Manor, Beverly Acres, Cedar Valley, Floral Hills, Lake Serene, Logan Park, Lynndale Park, Martha Lake, and Seattle Heights.