Centennial Pest Control Services
Croach® helps Centennial, CO residents with pest control and prevention, starting with a thorough inspection of the interior and exterior of your home. You can relax knowing your home is continually protected with our tailored scheduled services.
Get Rid of Spiders, Rats, Mice, Ants, and Wasps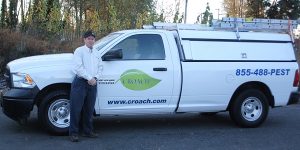 Protect your Centennial property and family from these and other pests with Croach® pest exterminator services.
A big problem in Centennial is deer mice. Not only do they destroy your property, but they are also carriers of the Hantavirus. The Colorado Department of Public Health and Environment has record of 90 cases of this virus since 1993.
It is a rare but serious respiratory illness spread by the contact of infected rodent urine, saliva or droppings. According to the CDPHE, approximately 40% of people with the disease have died from it.
Your best defense against pest control problems is prevention. If you see even one mouse or rat, it's likely you already have an infestation.
We've also got you covered for common pest problems such as ants (including carpenter ants), bed bugs, spiders (such as black widows, yellow sac spiders, brown recluse, and hobo spiders), roaches, wasps like hornets and yellow jackets, silverfish, and even carpet beetles.
Encountering them outside is one thing. It's when they try to join you in your home that they really become a problem. And the spiders we mention can be dangerous.
But no worries - Croach® technicians are thorough in removing unwanted guests from your home, within your budget. Your pest extermination needs are unique. So we offer customized eradication and prevention options designed to provide you with total peace of mind.
Local Centennial Exterminator
Pest Control Issues Caused by Changes in Weather
The city of Centennial has something for everybody. If you want to spend the day shopping and exploring, you'll enjoy the Streets at SouthGlenn. You can also spend the day at Centennial Center Park where there is something for the whole family, including a water park.
Of course, if you don't get enough of the snow during the winter months, or want the adventure but not the cold, check out Snobahn. Do what the rodents do during the Centennial winters and head inside for your skiing and snowboarding.
You may first notice pest control problems when it starts getting colder. Just like humans, pests want to be comfortable. When the temperature drops, they search out warmth and food. Unfortunately, that pest utopia is probably your home.
What You Can Expect During Your Initial Visit
Your home is thoroughly inspected. This initial checkup includes:
Identifying your existing pest issues
Diagnosing potential future pest problems
Reviewing results with you including an explanation of recommended treatment products and methods.
Croach® Credentials and Customer Benefits
Licensed, insured, and experienced technicians.
Customized pest control service plans specific to the Centennial area.
Hi-tech solutions, that save you money and time, for ongoing prevention of pest and rodent infestation.
If you need them, we offer free retreats for warrantied services between appointments. Just give us a call.
Licensed, Bonded, Insured
CO License #16006

Centennial Service Area
Croach proudly serves all Centennial neighborhoods, including Inverness/Dove Valley, E Arapahoe Rd/S Chapparal Cir W, E Orchard Rd/S Mobile St, S Holly St, S Syracuse Way, S Buckley Rd, E Dry Creek Rd, E Progress Dr/E Crestline Ave, S Quebec St, S Dayton St, and E Euclid Dr.
Free Pest Inspection