Pest Control in Gresham, Oregon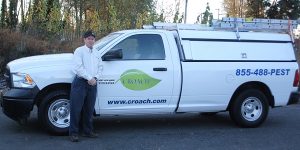 Croach® provides excellent pest elimination for Gresham, Oregon residents. Our customized service plans are designed to rid your home of spiders, wasps, ants, rodents and other annoying pests.
Local Attractions in Gresham
If you are looking for something scary in Gresham, check out House of Shadows. You will see many things that you do not want in your house. This full-contact haunted house is not for the faint of heart and makes the pests like rats, spiders, and wasps you work to keep out of your home seem almost tame.
Once you have all the bugs and rodents cleared out, you can check out nature where it should be. Gresham boasts a wonderful summer park program for children, and an amazing Japanese garden.
Our Detailed Gresham, OR Pest Control Process
What you can expect from our trained technician:
✅ Initial inspection. We inspect in and around your home to identify existing pest activity and potential hot spots for future infestations.
✅ Inside treatment. Our interior treatment flushes pests out of your home and prevents others from getting in.
✅ De-webbing and wasp nest removal. Croach® Gresham, OR pest control licensed technicians will thoroughly inspect your home and the surrounding property, removing spider webs and wasp nests.
✅ Exterior treatment. We apply a liquid barrier against pests at entry points of your exterior, including eaves, windows, doors, and the foundation.
✅ Granulation. Another layer of protection to keep potential pests from nesting around your home.
Our licensed technicians and customer service staff are here to ensure your satisfaction.
Our services and protection plans provide you with the best solutions for your home and family. Protecting your family from the health issues and property damages caused by cockroaches, stink bugs, rats, and mice is our top priority.
Free Pest Inspection
Gresham, Oregon Pest Control Reviews

"Prompt and courteous service, rescue visits if a stray spider would show up, and removal of webs. Plus, there is NO chemical smell from the products that are used. Yay for everything!"

"Very courteous and professional. They eliminated several problems so we look forward to them coming back to help maintain insect and critter control."

"They are professional, courteous and respectful when coming to your home and they do an outstanding job."
View More Google Reviews and Customer Reviews.
---
The Croach® Commitment to Excellence
We pride ourselves on offering the most complete and efficient pest management and elimination services available. Your satisfaction is our goal.
Our technicians undergo ongoing training and regular performance reviews to ensure consistent and first-rate service to you. We aim to be known as the best pest control company in the industry.
You receive a customized pest control strategy to meet your immediate needs. We use hi-tech solutions to save you time and money, ridding you of spiders, wasps, ants and other pests that are disrupting your life. Our flexible ongoing maintenance schedule prevents future pest intrusions.
The safety of your home, family, and pets is our top priority. Pest infestations can have a huge financial and health impact. Partner with us and let us get you back to a pest-free home.
Croach® Pest Control Service Guarantee
If a problem occurs between scheduled, warrantied service visits, Croach® will re-treat your home free of charge.
Call Croach® today at (503) 430-5974 or schedule your consultation online for Gresham, OR Pest Control services.
Or visit our Portland Region Pest Control page for more information on our service areas.
Free Pest Inspection
Licensed, Bonded, Insured
WA License #70991
OR License #AG-L1021171CPO
Gresham Pest Control Near Me
Croach® happily keeps homes pest-free in the Gresham neighborhoods of SE Regner Rd/SE Butler Rd, SW Butler Rd, SW Towle Ave, NE 181st Ave/ NE Halsey St, Powell Valley, S Troutdale Rd/SE Stark St, NW Division St/NW Wallula Ave, NE 201st Ave/NE Glisan St, NE 181st Ave, and SW 15th St.