Safe and Efficient Pest Management in Happy Valley, Oregon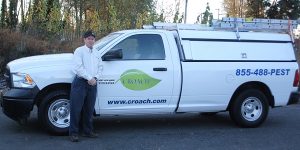 Croach® brings expert pest elimination to Happy Valley, Oregon residents. We offer a variety of services and protection plans to safeguard your family from potential health risks and the irritation of pest infestations.
Extinct Volcano in Happy Valley
Mt Scott is a few things. As the highest point in Happy Valley, and an extinct volcano, it's a good reminder that things like volcanoes and pests are better when they are not active. If you want to see some wonderful nature, in its proper environment, this is a good place to hike.
One of the things we like most about Happy Valley is the number of bug named businesses. For example, places like Puddle Bug Designs and New Bug City Software make us feel like we have our work cut out for us.
Our team of highly trained inspectors, technicians and customer service staff work with you to resolve your pest issues.
Ridding your home of spiders, cockroaches, ants, wasps, rodents and other pests will unquestionably help prevent damage to your home and give you peace of mind.
Local Bug-related Resources
Something suspicious in your backyard or neighborhood? - Protect your property and the community from potential threats of plant or insect invasion. You can report invasive species sightings with the Oregon Invasive Species Hotline and also contact the City of Happy Valley to inquire about city code enforcement.
Invasive Pest Prevention - The Insect Pest Prevention and Management (IPPM) Program through Oregon's Department of Agriculture works hard to protect the environment and your quality of life from damaging insect pests. In addition, they provide helpful FAQs, tips, and an online form to report potentially invasive pests.
Happy Valley Pest Control Reviews

"Always on-time or early for appointments. Professional and friendly service. The flies, spiders and ants are under control, not in my house. I have the exterior sprayed and that keeps the slugs and other bugs away from the house."

"I would recommend this service to everyone. Customer service is outstanding. I've used the service almost two years and without fail the technician is on time and does an exceptional job as scheduled."

"Loved that they came shortly after I called them. We had those tiny little ants everywhere in the kitchen the bathrooms, yack. We have been ant-free for the last couple of years a few spiders here n there but of the smaller variety. They come quarterly to spray, the cost is comparable and reasonable, the guys are mostly personable they check in with me when I'm home when were out they leave a note saying they were here."
View More Google Reviews and Customer Reviews.
Free Pest Inspection
---
Solution-Driven Happy Valley Pest Control
At your initial meeting:
✅ Inspection. You receive a thorough home inspection. We identify existing pest activity and search for areas that welcome infestations.
✅ Interior treatment. We flush existing pests from your home, and deter future pests from entering.
✅ De-webbing and wasp nest removal. Croach® removes spider webs and wasp nests to prevent further damage and infestations.
✅ Exterior treatment. The exterior of your home is treated to create a liquid barrier against pests. Treatment includes eaves, windows, doors and your home's foundation.
✅ Granulation. Your home receives another layer of protection, preventing pests from nesting near your home.
We customize a pest management plan specifically for you. Then we find you hi-tech solutions to your pest infestation. Call Croach® today to start taking your home back.
Croach® Complete Satisfaction
Our service standards are the most complete and efficient available. We go above and beyond to solve your pest problems.
Our technicians are licensed, trained and receive regular field performance reviews. Then continued training ensures you always receive the best service in the industry.
We create a customized strategy to meet your current pest extermination needs. Our flexible ongoing maintenance schedule keeps your home continually protected from future pest invasions.
Your safety and satisfaction are always our priorities. Therefore, if warrantied pest issues should arise between scheduled service visits, we will re-treat your home free of charge.
Call Croach® today at (503) 430-5974 or schedule your inspection online.
Or visit our Portland Region Pest Control page for more information on our service areas.
Free Pest Inspection
Licensed, Bonded, Insured
WA License #70991
OR License #AG-L1021171CPO
Happy Valley Pest Control Near Me
From our office in Beaverton, just on the other side of Portland, we proudly service all Happy Valley neighborhoods, including SE 145th Ave/SE 147th Ave, City Center, SE Idleman Rd/SE 92nd Ave, SE 122nd Ave/SE Spring Mountain Dr, SE Sunnyside Rd/SE 142nd Ave, and Battin/Harmony Point.