Hillsboro, OR Pest Control - Pest Free Solutions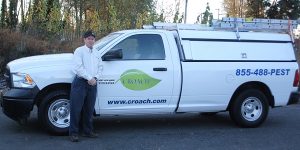 Partner with Croach® for cost-effective Hillsboro, OR pest elimination. We have a time proven plan to remove ants, spiders, cockroaches, wasps, stink bugs, and rodents from your home.
Hillsboro - A Perfectly Different Town
Hillsboro is a town with a sense of itself. From manufacturing solar panels to Rice Northwest Museum of Rocks and Minerals to Bruce Campbell's (not the actor) Boeing 727 home in the woods, Hillsboro is perfectly different. Close to Portland, residents don't let that define them.
Thanks to the moderate temperatures, pests like rodents and spiders are active year-round. And they love to move into your house during the rainy falls and colder winters. Keeping them outside, in the nature that Hillsboro residents are committed to, can be a challenge.
Our experienced team of inspectors, technicians and customer service staff work with you to make sure you are completely satisfied with the results.
We provide practical solutions with a range of services and protection plans. Your home and family can be protected from the health risks, damage, and disturbances that pests and rodents bring to your home.
The Croach® Hillsboro Pest Control Procedure
What you can expect from our trained professional at your initial visit:
✅ The Interview. You let us know what pests you have noticed and what your needs are.
✅ Inspection. We investigate the interior and exterior of your home, searching for signs of pest infestations.
✅ Findings. Your Croach® pest control technician will explain our products, treatments, and answer questions you may have.
✅ Safety measures. We take the safety of your home, family, and pets seriously.
✅ Customized plan. We outline the perfect pest control and maintenance plan for your home and family.
Free Pest Inspection
Hillsboro, Oregon Pest Control Reviews

"Love the service that this company provided me!"

"Professional and thorough... Have seen a huge difference since we had them come in."

"They do a very good job and when I need them to return for additional spraying, they do it complimentary. Most of their representatives are professional and accommodating."
View More Google Reviews and Customer Reviews.
---
The Croach® Pledge of Excellence
Our technicians are thorough in their inspections and treatments of your home. Not only are they licensed, but they undergo extensive and ongoing training.
We make sure your services are first-rate with regular field performance reviews. We strive to be the best pest management company in the industry.
We create a customized elimination and maintenance strategy for you. Your ongoing maintenance schedule will be tailored to fit your schedule and budget. We partner with you to meet the needs of your home and family.
We take the time to make sure you understand the steps we take to ensure your home is pest-free.
We want you to have the peace of mind in knowing your home is healthier, safer, and free of pests.
Croach® Pest Control Service Guarantee - If a problem occurs between scheduled, warrantied service visits, Croach® will re-treat your home free of charge.
Call Croach® today at (503) 430-5974 or schedule your inspection online.
Or visit our Portland Region Pest Control page for more information on our service areas.
Free Pest Inspection
Licensed, Bonded, Insured
WA License #70991
OR License #AG-L1021171CPO
Hillsboro Pest Control Near Me
From our office in Beaverton 13 minutes away, Croach services the Hillsboro neighborhoods of NW Evergreen Rd/NW 281st Ave, NW Jackson School Rd/NW Meek Rd, Orenco, NW Evergreen Pky/NW Rickey Ter, NE Cornell Rd/NE Brookwood Pky, SW Baseline Rd/SW Cornelius Pass Rd, Farmington/Kinton, NW Cornelius Pass Rd/NE Cornell Rd, NE 25th Ave/NE Sunrise Ln, and NE Grant St.