Pest Control in King City, Oregon
Croach® provides outstanding pest elimination for King City, Oregon residents. Our dedicated inspectors, technicians and customer service staff are here to ensure your satisfaction.
King City Residents
While King City continues to expand and draw new residents at an amazing rate, the roots as a planned, age-restricted community are still prevalent. Nearly 45% of King City residents are over retirement age.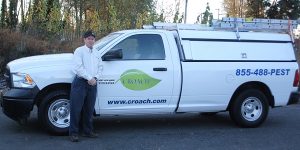 Seniors are some of the most susceptible to the diseases spread by rodents and bites from spiders. Therefore, it is important to apply effective pest control to homes housing older family members.
We offer a range of services and maintenance plans. Croach® also provides the best solutions to protect your home and family from health risks, damage, and inconvenience incurred by the presence of pests.
Local Bug-related Resources
Have a gardening question? - Oregon State University offers a Master Gardener program for residents in the care and growth of local plants. Events include fruit tree pruning, gardening insights, insect identification, and garden tours.
Insect Zoo - The Oregon Zoo is a great place to visit, bring family and friends, and specifically, learn about insects. Wheelchair, stroller and electric scooter rentals are available. The Washington Park and Zoo Railway is a great way to enjoy the many exhibits and events.
Tree Diseases and Pests - The City of Portland provides information and resources about common tree diseases and pests. For instance, you can learn about Anthracnose, Dutch Elm disease, aphids, Elm leaf beetles, and several species of caterpillar.
King City Pest Extermination and Prevention
Your initial visit:
✅ Inspect. Your home is thoroughly inspected to find current pest problems and locate conditions that may contribute to future problems.
✅ Review. We come to you with our results and offer solutions to resolve your pest issues.
✅ Explain. We review our treatment products, methods and safety measures.
Free Pest Inspection
King City, Oregon Pest Control Reviews

"Loved that they came shortly after I called them. We had those tiny little ants everywhere in the kitchen the bathrooms, yack. We have been ant free for the last couple of years a few spiders here n there but of the smaller variety. They come quarterly to spray, the cost is comparable and reasonable, the guys are mostly personable they check in with me when I'm home when were out they leave a note saying they were here."
---

"Their electronic notifications and personal customer service is fantastic. There are times when I find a need to have a treatment outside of their regularly scheduled visits and their timely arrival and flexibility is wonderful."
---

"We used to have spiders and lots of sugar ants. Now we don't even have to think about it. Pest Free comes out quarterly and handles everything for us. Great service. Good value."
View More Google Reviews and Customer Reviews.
---
Tailor-Made Pest Control Options
Croach® customizes a program of scheduled services year-round for King City resident pest control. This program keeps your home, family, and pets thoroughly protected.
The changing of seasons is welcoming to rodents, ants, spiders, stink bugs, and wasps. Investing in your home, with a comprehensive pest control and prevention plan, will help eliminate these issues.
✅  Interior treatment. Flushes pests out and prevents more from entering.
✅  Removal of wasp nests and spider webs. Croach® technicians remove spider webs and wasp nests.
✅  Exterior treatment. An outside liquid barrier to keep pests out.
✅  Granulation treatment. To discourage pests from nesting on your property.
Standards of Excellence
We exceed your expectations by providing:
FREE retreats, if a pest problem arises between scheduled visits.
Time and money-saving HI-TECH solutions.
We pay attention to customer feedback and use it to improve and enhance our services.
Call Croach® today at (503) 430-5974 or schedule your inspection online.
Or visit our Portland Region Pest Control page for more information on our service areas.
Free Pest Inspection
Licensed, Bonded, Insured
WA License #70991
OR License #AG-L1021171CPO