Pest Control for Newberg, Oregon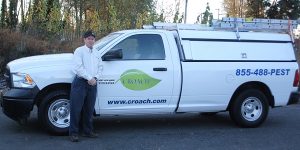 Newberg, Oregon residents count on Croach® pest control services for prevention and management of rats, mice, spiders, cockroaches, ants, bees and wasps, stinkbugs, emerald ash borers, and other unwanted insects and rodents.
One of the greatest things about Newberg is its commitment to recycling and reuse, demonstrated in part by the city endorsement of the Newgrow Compost Depot. When composting and gardening, remember to keep the insects and rodents they invite away from your property.
The Chehalem Glenn Golf Course and many community parks are a great place for Newberg residents to spend the day. The scenic, all-inclusive nature of these attractions makes them the right place for wildlife. Croach® sets up a pest exclusion barrier to keep out any spiders or ants that might follow you home.
Croach® proudly serves your neighbors in NE North Valley Rd/NE Ribbon Ridge Rd, Springbrook, N College St/NE Bell Rd, Portland Rd/N Springbrook Rd, City Center/George Fox U, and the surrounding areas from our office in Beaverton.
Newberg Home Pest Control Process
We offer a free professional pest inspection of your entire home, inside and out. During our initial visit, your licensed Croach® technician will:
✅  Identify existing pest issues.
✅  Diagnose potential future problems.
✅  Review findings with you, provide recommendations and explain our products and methods.
✅  Go over safety measures taken to protect your family and pets.
Our technicians undergo continuous training. Their performance is regularly reviewed, ensuring they provide you with the best service in the industry.
Croach® Pest Control Service Guarantee
On the off chance that a warrantied problem occurs between regular, scheduled service visits, call us and Croach® re-treats your home free of charge.
Newberg, Oregon Pest Control Reviews

"Chris did a very professional job. He was thorough and made sure he treated the entire perimeter of the house including the removal of an old wasp nest. He is very pleasant to talk with and made sure I was aware of what he did. We have notice very little bug activity of any kind and are very happy about that. Thanks for the great service and keeping our home bug free."
---

"Very satisfied with the service today, as always. Ty was very professional and thorough making sure any potential spider issues were addressed and sprayed all areas around the exterior of the house. Again, well done!"
---

"Joseph was very professional and thorough in his work. Friendly and easy to talk with. He was respectful of our many plants and shrubs while pulling the hose for spraying and made sure nothing was damaged. Thanks for the great service."
Get Rid of Rodents, Bugs, and Stinging Insects!
Contact your local pest control contractors at 503-430-5974 or schedule an inspection online for professional Newberg pest control services customized to you and your home.
Or visit our Portland Region Pest Control page for more information on our service areas.