Pest Control for Oregon City, Oregon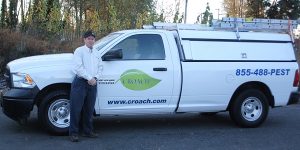 Croach® provides pest control services for Oregon City homeowners to keep rats, mice, spiders, ants, cockroaches, emerald ash borers, stinkbugs, bees and wasps away from your house, family, and pets.
Oregon City is understandably proud of its history as the first capital of Oregon. For tourists and residents alike, it showcases the Museum of the Oregon Territory, the End of the Oregon Trail, and the Pioneer Center.
One of only four Municipal Elevators in the world, and the only one in the United States, is located here. For those who want to be immersed in nature, you can enjoy 14 lush green acres of restored wildlife habitat at the Newt Wash Wildlife Ranch. Just don't let any of that wildlife follow you home.
Oregon City Home Pest Control Process
At your initial visit, we provide a professional pest inspection of your entire home, inside and out. Your Croach® licensed technician will:
✅  Identify existing pest issues.
✅  Diagnose potential future problems.
✅  Review findings with you, provide recommendations and explain our products and methods.
✅  Go over safety measures taken to protect your family and pets.
Our technicians undergo continuous training. Their performance is regularly reviewed to make sure that you are receiving the best service.
Croach® Pest Control Service Guarantee
If a problem occurs between scheduled, warrantied service visits, Croach® will re-treat your home free of charge.
Oregon City, Oregon Pest Control Reviews

"Thank you for your wonderful service and attention to detail. I also appreciated the reminder to call in if I ever have concerns. Another A++ for my pest control!!!"
---

"ohn Mattson did a great job. Excellent Company. Thanks"
---

"Joseph was on time, professional, and courteous."
Get Rid of Rodents, Bugs, and Stinging Insects!
Call your local pest control contractors at 503-430-5974 or schedule an inspection online for professional, personalized Oregon City pest control services.
Or visit our Portland Region Pest Control page for more information on our service areas.
Free Pest Inspection
Licensed, Bonded, Insured
WA License #70991
OR License #AG-L1021171CPO
Oregon City Service Area
Croach® is happy to help keep pests out of homes in Oregon City neighborhoods, including Redland/Viola, S Henrici Rd/Beavercreek Rd, Beaver Creek, Park Place/Clackamas Heights, New Era, S White Ln/Payson Ln, Clairmont Wy/Molalla Ave, S Beavercreek Rd, Oregon City Center, and Canemah.