Safe and Effective Salem, Oregon Pest Control
Croach® provides cost-effective pest elimination for Salem, Oregon residents. Our technicians and customer service staff work together with you to ensure your satisfaction.
Salem's Many Attractions
Oregon's capital city has a long history and many attractions for residents and visitors alike. It is one of the very few places where the capitol building itself is an attraction.
Oregon State Hospital is another interesting place. Not only does it contain a mental health museum, but it was the filming site for One Flew Over the Cuckoo's Nest.
Of course, Salem has plenty of outside attractions as well. Enchanted Forest Park is a great place to take the kids. Salem's River Front Carousel is another attraction that appeals to kids of all ages. Riverfront Park is just one of the many parks and areas dedicated to environmental awareness in Salem.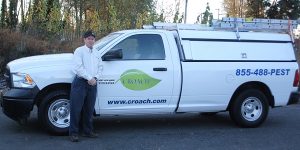 Any or all of these are places where you might see interesting wildlife. Naturally, this is also a reminder of the rodents, ants, and spiders at home that we want to keep outside.
Find the best solutions for your pest control problems with our wide range of services and protection plans.
Our customized programs protect your home and family from the health risks, damage, and aggravation of pest infestations. Get rid of wasps, spiders, cockroaches, rats and mice, ants, and stink bugs.
Salem, OR Pest Control Procedure
What to expect from the start:
✅ We converse with you to find out what you have experienced and your concerns in regards to your pest problems.
✅ During each service, we inspect your home for current and potential pest infestations.
✅ We report our findings to you and offer solutions.
✅ We explain our products, treatments and safety procedures.
✅ We will answer any questions you may have.
We include you in every step of our process. Partner with us to establish a pest-free environment and take back your home.
Free Pest Inspection
Salem, Oregon Pest Control Reviews

"Great Service and follow-up if ever needed. Very professional and attentive to customer needs. I love the electronic messaging they employ."
---

"Cost effective pest management. Prompt, professional and timely home pest control. They started with a complete bed bug inspection and then got right to work eliminating them."
---

"Professional staff and their regular service schedule makes for a bug free home. If you have any special needs or requests they take care of it."
View More Google Reviews and Customer Reviews.
---
Croach® Quality Pest Control
Our pest control technicians are licensed and undergo extensive training. Regular field performance reviews ensure you are consistently receiving excellent service.
Unlike most pest control companies, we are meticulous about prevention. For instance, de-webbing and wasps nest removal are an important part of our process. Because even the moisture and smell of an old rotting nest can attract more pests.
You receive a tailored strategy to meet your immediate pest control needs. We create a flexible ongoing maintenance schedule to protect your home from future pest invasions.
Your safety comes first with Croach®. If warranty pest problems arise between scheduled service visits, we will re-treat your home at no cost to you.
Call Croach® today at (503) 430-5974 or schedule your consultation online.
Or visit our Portland Region Pest Control page for more information on our service areas.
Free Pest Inspection
Licensed, Bonded, Insured
WA License #70991
OR License #AG-L1021171CPO
Salem Pest Control Near Me
Croach® serves all Salem neighborhoods, including, Central Salem, East Lancaster, Faye Wright, Grant, Highland, Lansing, Morningside, Northeast Salem, North Lancaster, Northgate, South Central, Southeast Mill Creek, South East Salem, South Gateway, Sunnyslope, South Salem, and West Salem.