Pest Control for Troutdale, Oregon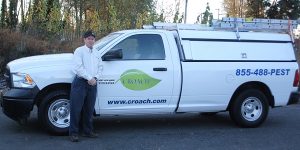 Croach® offers pest control services to Troutdale residents to get rid of rats and mice, bees and wasps, spiders, ants, cockroaches, stinkbugs, emerald ash borer, and other pests.
Sitting on the Sandy River, just east of Portland, Troutdale is everything a resident wants, including great fishing.
One of the most unique destinations in Troutdale is the 1000 Acre Dog Park that doubles as a beautiful hiking area. Dedication to our pets is one reason Croach® pest control is safe for them. While Troutdale is a great place to enjoy the local wildlife, it's important to keep spiders, ants, and wasps outside, instead of in the house.
Troutdale Home Pest Control Process
At your initial visit, we provide a professional pest inspection of your entire home, inside and out. Your Croach® licensed technician will:
✅  Identify existing pest issues.
✅  Diagnose potential future problems.
✅  Review findings with you, provide recommendations and explain our products and methods.
✅  Go over safety measures taken to protect your family and pets.
Our technicians undergo continuous training. Their performance is regularly reviewed to make sure that you are receiving the best service.
Croach® Pest Control Service Guarantee
If a problem occurs between scheduled, warrantied service visits, Croach® will re-treat your home free of charge.
Troutdale, Oregon Pest Control Reviews

"Zenzele was very friendly. And knew her stuff. We appreciate the quick service."
---

"Thank you-- you were very professional and did your job well."
Get Rid of Rodents, Bugs, and Stinging Insects!
Call your local pest control contractors at 503-430-5974 or schedule an inspection online for professional, personalized Troutdale pest control services.
Or visit our Portland Region Pest Control page for more information on our service areas.
Free Pest Inspection
Licensed, Bonded, Insured
WA License #70991
OR License #AG-L1021171CPO