Pest Control for Tualatin, Oregon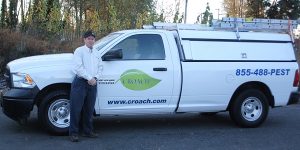 Croach® pest control services get rid of ants, spiders, stinkbugs, rats and mice, wasps and bees, cockroaches, emerald ash borers, and other pests for Tualatin homeowners.
Tualatin offers a beautiful setting as a big-spirited, small town. Be sure to visit the fossilized female mastodon (a distant relative to an elephant) at the Tualatin Public Library, celebrate Arbor Week, and enjoy some of the dozen or so community parks.
Some of the iconic local businesses and events that celebrate Tualatin's nature and wildlife include the Tualatin Riverkeepers, Lee Farms, Hughes Water Gardens, Crawfish Festival, and the Pumpkin Regatta. Of course, sometimes nature, in the form of ants, spiders, stinkbugs, and rodents, want to get a little too close to our homes, families, and pets. That's where Croach® comes in.
Tualatin Home Pest Control Process
At your initial visit, we provide a professional pest inspection of your entire home, inside and out. Your Croach® licensed technician will:
✅  Identify existing pest issues.
✅  Diagnose potential future problems.
✅  Review findings with you, provide recommendations and explain our products and methods.
✅  Go over safety measures taken to protect your family and pets.
Our technicians undergo continuous training. Their performance is regularly reviewed to make sure that you are receiving the best service.
Croach® Pest Control Service Guarantee
If a problem occurs between scheduled, warrantied service visits, Croach® will re-treat your home free of charge.
Tualatin, Oregon Pest Control Reviews

"Very quick and efficient, covered all the areas we talked about!"
---

"Excellent service by both technicians. Thank you."
---

"AJ was amazing! He called ahead to confirm, greeted me with a smile and introduction, and did a thorough job. We had a lot going on at the moment when he came into our house, and he went with the flow, remained professional and even helped get our dog that escaped. AJ went above and beyond the call of duty! I highly recommend him!"
Get Rid of Rodents, Bugs, and Stinging Insects!
Call your local pest control contractors at 503-430-5974 or schedule an inspection online for professional, personalized Tualatin pest control services.
Or visit our Portland Region Pest Control page for more information on our service areas.
Free Pest Inspection
Licensed, Bonded, Insured
WA License #70991
OR License #AG-L1021171CPO
Tualatin Pest Control Near Me
We service all Tualatin neighborhoods, including Stafford, SW Nootka St/SW Tonquin Loop, Norwood, SW Tualatin Sherwood Rd/NE Oregon St, SW Sagert St/SW Beaverton Tualatin Hwy, Tualatin City Center, and SW Upper Boones Ferry Rd/SW 72nd Ave from our office in Beaverton a short 13-minute ride away.