Pest Control for Wilsonville, Oregon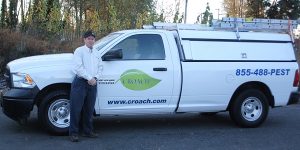 Croach® provides Wilsonville homeowners with pest control services to identify, manage, prevent, and exterminate or relocate rats and mice, spiders, cockroaches, bees and wasps, stinkbugs, ants, emerald ash borers, and other pests.
Wilsonville is an exciting place to live. There is always something to do! Nature lovers, moviegoers, and everyone in between can find a day out here. Farmlandia Fun, the Coffee Lake Wetlands, and the Wilsonville movies in the park are great examples. Prepare to deal with some bugs, but don't let them spoil your activities.
Keeping the ants, spiders, stink bugs, and other pests away from your home, family, and pets is our specialty.
Wilsonville Home Pest Control Process
At your initial visit, we provide a professional pest inspection of your entire home, inside and out. Your Croach® licensed technician will:
✅  Identify existing pest issues.
✅  Diagnose potential future problems.
✅  Review findings with you, provide recommendations and explain our products and methods.
✅  Go over safety measures taken to protect your family and pets.
Our technicians undergo continuous training. Their performance is regularly reviewed to make sure that you are receiving the best service.
Croach® Pest Control Service Guarantee
If a problem occurs between scheduled, warrantied service visits, Croach® will re-treat your home free of charge.
Wilsonville, Oregon Pest Control Reviews

"Seriously SO helpful. What a fantastic duo you sent to my house. Thank you for your professionalism and patience and kindness! Highly recommend this company to everyone!"
---

"Norman is always nice to deal with. He has excellent customer service skills and is knowledgeable in what he does."
---

"Ty has been great every time he has come out. He is great at explaining what he is doing, what to expect after treatments, and why things have been happening up to that point."
Get Rid of Rodents, Bugs, and Stinging Insects!
Call your local pest control contractors at 503-430-5974 or schedule an inspection online for professional, personalized Wilsonville pest control services.
Or visit our Portland Region Pest Control page for more information on our service areas.
Free Pest Inspection
Licensed, Bonded, Insured
WA License #70991
OR License #AG-L1021171CPO