Pest Control in Stanwood, Washington
Croach® provides dependable, systematic pest control protection to residents in the Stanwood, Washington area. Get rid of insects and bugs like ants, spiders, cockroaches, bees and wasps, bed bugs, or uninvited rodents like rats, mice, yard moles, and deer mice. Are your hemlock trees infested? We can inspect for hemlock woolly adelgids.
Excellent Pest Control Standard of Service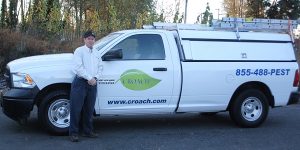 You can count on a skilled inspector, licensed and highly trained technicians, and a friendly, knowledgeable customer service staff.
As a company, our goal is to transcend industry requirements to provide you with exceptional pest control services far beyond the norm.
To achieve this goal and exceed your expectations, we offer FREE retreats between scheduled visits if a warrantied problem arises. We will also perform a thorough attic and crawl space assessment as part of our initial inspection.
"The Technician was on site, on time. He took the time to get all of our issues taken care of. Since my service with Croach, I no longer have any pest problems. I HIGHLY recommend anyone to have Croach be their pest control company. From the Technician all the way to the Administrative personnel, a big HIGH five. Very professional and courteous, and VERY thorough. They came back to take care of a wasp problem I was having and worked with our schedules for the least intrusive schedule. Very happy with Croach. Thanks!!!"
Local Stanwood Exterminator
Integrated Pest Management Services
The city of Stanwood has twin downtowns from merging with East Stanwood. For years it was home to many food processing plants, and it is partially in the Stillaguamish River flood plain. This attracts pests like rats, spiders, and ants. Croach can help with pest control, and also with insulation damage due to flooding from inclement weather.
Stanwood is home to some amazing parks, like Lake Goodwin Community Park where you can see ducks and geese, birds the city celebrates every February. Your city also knows the value of homes and history, as you can see on a tour of the D.O. Pearson House Museum.
Free Pest Inspection
Customized Stanwood Pest Control and Prevention Plans
Your pest extermination needs are unique. So we offer customized eradication and prevention options designed to provide you with total peace of mind.
For effective pest control in Stanwood, Croach® personalizes a program of scheduled services throughout the year to ensure continuous protection.
The first free inspection is comprehensive. We will:
Pinpoint existing pest problems and provide an intensive full-property analysis.
Identify potential areas of pest infestation to prevent them from occurring.
Review results with you, including an explanation of recommended treatment products and methods.
"Standard excellent service call by Kevin. He knows our property and home and very importantly he turns off the lights and locks up the areas he serviced. He is friendly and gets down to business when he arrives, and, he gives a good summary of the work he performed."
More Pest Control Reviews from Nearby Customers
Attic Insulation and Crawl Space Repair
Rodents and other pests can do a lot of damage and cause health concerns in the attic insulation and crawl spaces of your home.
Many of our customers have found that they cannot sell their home until they've completed a crawl space repair or attic renovation. Or they cannot rent an investment property until restoration and pest prevention is in place.
In addition, material decay and moisture play havoc with your insulation; which makes it ineffective for energy conservation in the home and drives up your energy bill.
Croach® provides professional repair and installation services for the insulation areas in your house. Our approach will ensure the safety and comfort of you and your family throughout the year and improve energy efficiency.
Contact Croach® for cost-effective pest control or insulation services in the Stanwood, WA area.
Free Pest Inspection
---
Licensed, Bonded, Insured
WA Pest Control License #99029
WA Contractor Lic #PESTFF*894K4
Stanwood Service Area
Croach® serves all Stanwood communities, including Candle Ridge, Copper Station, Eagle Crest, Fox Hill Estates, Glade Bekken, Kayak Estates, Kyle Park, Lake Howard, Lake Martha, Nordic Way, Pioneer, Ridgerland, Stilly, and Warm Beach.