Get Pest Free
in Brookhaven, SC
Brookhaven is a suburban community where rural allure meets modern sophistication. At the Green Laundry Lounge sip coffee and charge your EV while getting your laundry cleaned organically! Likewise, Croach® pest control uses traditional and eco-friendly strategies to rid your home of pests.
✓ Get a free whole-house pest inspection – inside and out.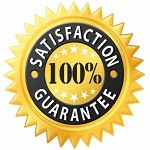 Retreats Guarantee
We guarantee a retreat of pest issues that arise between regularly scheduled services. Ask for more details when you sign up.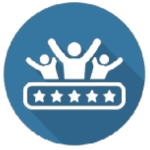 Thousands of Customer Reviews
Trust Croach® pest control reviews of friends and neighbors near Brookhaven and browse customer surveys of their pest management technicians.

Prompt and Courteous!
Michael was prompt, courteous, and was knowledgeable in answering my questions. I appreciate that he took the time to explain what he was doing and why, especially since this was my first use of Croach.
Read more Brookhaven reviews

Thorough and Cleaned Up!
David was very through and took care to let us know about what he had done. He made sure to clean up after himself and left us with a better looking home. I hope he comes back for future services.
Read more Brookhaven reviews
Effective Pest Control is a Long-term Strategy
At the initial complimentary inspection, our expert technicians identify which pest species are causing problems in your home or yard. Then we apply best practices to exterminate the pest. We focus on preventing the pests from returning using a non-chemical process called exclusion, which means blocking the pests' entry to your property.
And we also stop infestations by breaking the breeding cycle of pests. Our goal is to provide long-term pest control, during every season, year-round, and to be proactive about new problems, like the spotted lanternfly.
You Have our Pest-free Satisfaction Guarantee
Your knowledgeable service technicians develop a customized treatment plan to address your individual circumstances. Whether you're home or not, our dependable technicians will treat your property according to the plan. And if you experience a pest problem between scheduled treatments, we'll come back out to give you an intermediate treatment. Your comfort and satisfaction are our top priority.
Relax and enjoy your comfortable upstate lifestyle with the assurance that Croach® professionals have got your pest management concerns in check.
Brookhaven homeowners trust Croach® pest control to get rid of insects and rodent pests using progressive eco-friendly solutions like Integrated Pest Management.
What is Integrated Pest Management?
IPM is a fancy name for what truly is a simple idea. The concept involves using care and forethought to dodge pest problems to begin with. And when pest problems do occur, they are treated with minimal chemical interventions.
The goal of IPM is to reduce the risk to people and the environment. As such, IPM is a long-term approach to pest control that goes far beyond do-it-yourself chemical extermination.
Your Croach® technician uses these IPM methods to suppress pests.
Cultural controls:
Pests are attracted to human settlement because we inadvertently provide everything they need to survive – food, water and shelter. Homeowners can easily get into good IPM habits, like emptying vessels of standing water, wiping up spills and crumbs, and keeping their houses tidy and vacuumed in order to reduce the establishment, reproduction and survival of pests.
Mechanical controls:
Traps are a type of mechanical control which remove pests without the use of chemicals.
Physical controls:
Preventing pests from entering your home or property is called exclusion. Your Croach® technician will locate breaches, and block holes, cracks or other access points so pests never make it into your space.
Chemical controls:
Your Croach® exterminator may need to apply chemical pesticides to target an infestation. We are very selective about the chemical products we use, and use them discreetly to maximize safety for your family and pets.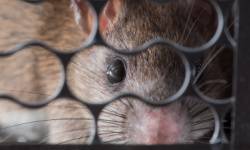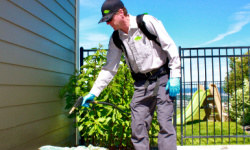 Recommending to Neighbors!
These guys are top notch! Daniel, our tech, could not have done a better job! Recommending to all of my neighbors. Thanks!
Read more Brookhaven reviews

Made Sure We Were Satisfied!
Brayden did a great job with our initial service. He explained what he was going to do, did it and followed up before leaving to be sure we were satisfied. He's a great asset to your team.
Read more Brookhaven reviews
Pest Control Services by Croach® Exterminators Near Brookhaven
Get rid of
ants
,
carpet beetles
,
cockroaches
,
mice and rats
,
silverfish
,
spiders
,
termites
,
wasps
and other stinging, biting, crawling, and flying pests. We serve Brookhaven residents in single-family homes, apartments, HOAs, and light commercial buildings.
Live Pest Free in Brookhaven!
Brookhaven homeowners rely on Croach® for convenient concierge pest control services at an affordable rate. The goal of our family business is to provide your family with long-term protection.
Save the money and time you've wasted worrying about pests, so you can enjoy more delicious moments at Mochinuts. Croach® pest control's reliable year-round services offer you the opportunity to enjoy more pest-free days living the good life with your friends and family in boujee Brookhaven.
Licensed, Bonded, Insured
SC Pest Control License # CA033446
Five Forks Service Area
Croach® serves all Brookhaven neighborhoods in 29651 zip code, including Briar Ridge, Riverside, Victor Hill, Lismore Park, Hartwood Lake, Maplewood, Shelburne Farms, Carmen Glen, Granite Woods, Lismore Village, Small and Quiet, Greystone Cottages, Brushy Meadows, Gibbs Shoals, Jacky Land, and Downtown.