Spider Control in Greenville
Spiders can overtake your Greenville, SC, home and yard quickly! Croach® spider exterminators get rid of spiders and their webs.
✓ Get a free whole-house pest inspection – inside and out.
Greenville, SC Spider Control
Don't wait until spiders make your Greenville home look like a scene straight out of the 1990s movie Arachnophobia, to call Croach® for spider control. Our team's eco-friendly spider removal methods will send those 8-legged menaces packing.
Types of Spiders in Greenville
South Carolina is home to 54 species of spider. Including the black widow spider. Black widow spider bites can be dangerous, so you don't want them around your home.
While people in Greenville report brown recluse bites every year, they aren't native to the state.
Most of the specimens here in Greenville are garden spiders, like the imposing bright yellow Joro spider. Harmless or not, they build giant webs that can take over your yard. Walking into one in a careless moment is anything but fun.
What Attracts Spiders?
Many people ask us why spiders are in their home. Spiders enter your home searching for food: if you see them, your home may have developed other pest control problems.
Spiders squeeze through cracks and gaps in the home, air vents, and even unfilled holes in the foundation. Others travel inside on other objects, such as firewood. Often, they come inside seeking warmth when the weather turns cold.
Filling cracks in your home is one of the best ways to prevent future infiltrations. It's also a good idea to get rid of any clutter in your home: spiders love cardboard boxes and stacks of paper because they make great places to hide. Finally, it's important to get reliable pest removal services that can address all the other bugs they might feed on.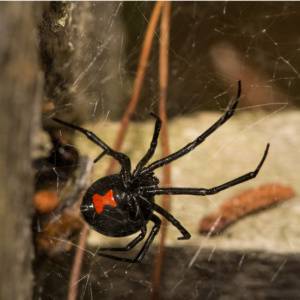 Are Spiders Dangerous?
Poisonous spiders, like the black widow, are dangerous because they hide and bite when cornered or startled. People rarely see them until after they bite.
Even if they aren't poisonous, they're still no fun to keep around. They may be pest predators, but spiders have predators of their own, which means attracting even more critters. Plus, they make your home look creepy instead of pleasant and inviting.
If you're really unlucky, an egg sac will burst inside your home. Now you have 700 baby spiders looking for places to hide.
In short, spiders can cause psychological distress, and if they get out of control, they can make your home difficult to live in. Having a reliable spider exterminator like Croach® for your property is important if you live near Greenville.
How to Get Rid of Spiders
Getting rid of spiders in an area as lush as Greenville isn't always easy. Professional pest control is the best way to be sure you're addressing all the reasons you see a lot of spiders. We use an eco-friendly Integrated Pest Management System (IPM).
Your Croach® exterminators provide a thorough inspection to find out what other pests are attracting the spiders. Then, we develop a personalized treatment plan to address them.
Our services include not only spider extermination. We also deweb and install traps, if necessary. In addition, we know that if we remove the food source; spiders will move out in search of a better place to live.
A Happy Customer Explains the Croach® Spider Control Process

We just had Croach out to our to rid our home and boat dock of spiders and bugs. Christopher Rivera, our technician did an amazing job. He was meticulous in his work and extremely polite in his demeanor. We are fans! They are approved to treat docks out on the water and they are approved to use some very powerful chemicals in and outside of your home.

They start by cleaning the exterior of your home as well as your garage of any spider and bug nests. That along with their sprays will kill most of the adults. In 30 days they will be back to kill any bugs that hatched. At that point we should be pretty much bug free. They will be back every two months to keep the critters out.

This seems to me to be the most comprehensive method of pest control that I have seen. The place looks great now after just the first visit.
Read more from Brad H.
End Your Spider Nightmare for Good
If you've had enough of creepy crawlies, don't delay. Contact us to schedule your 100% free home inspection.
Free Pest Inspection
Greenville, South Carolina Service Area
Anderson, Arcadia, Arcadia Hills, Berea, Brookhaven, Chick Springs, City View, Clemson, Conestee, Drayton, Dunean, Fairmont Mills, Five Forks, Fountain Inn, Gantt, Golden Grove, Greenville, Greer, Judson, Magnolia Acres, Mauldin, Overbrook, Park Place, Parker, Piedmont, Powdersville, Sans Souci, Saxon, Simpsonville, Spartanburg, Startex, Taylors, Travelers Rest, Wade Hampton, Welcome, West View, White Horse, Whitney Heights, Willow Heights, Woodberry, and Woodfield.
Licensed, Bonded, Insured
License #CA033446