Littleton Pest Control Services
Croach® provides customized, cost-effective pest control services for Littleton area homeowners and businesses. Get rid of rats, mice, ants, spiders, roaches, bees and wasps, and more creeping, crawling, flying, stinging insects and rodents.
Get Rid of Spiders, Rats, Mice, Ants, and Wasps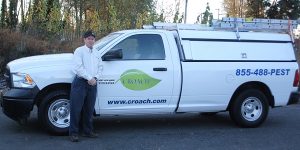 Littleton pest management services from Croach® safeguard your family and property from all these bugs and pests.
We've also got you covered for common pest problems such as deer mice, carpenter ants, hornets, yellow jackets, black widows, yellow sac, brown recluse, and hobo spiders.
Encountering them outside is one thing. It's when they try to join you in your home that they really become a problem. And the spiders we mention can be dangerous.
But no worries – Croach® technicians are thorough in removing unwanted guests from your home, within your budget.
Local Littleton Exterminator
Integrated Pest Management Services
Littleton is a town well defined by scenery. You can take in the panoramic view at the Falls Event Center, which has a little bit of everything that is Colorado. It is also home to the Littleton Museum which is unique not only in its link from past to present, but its 40 acres that house multiple galleries, lecture hall, and historical farms.
Littleton's history does not end with the museum. With locations like the Bradford House II and Historic Downtown Littleton, there is a great deal to protect and preserve. Your home and family need protection as well from the likes of ants, spiders, rats, mice, and wasps.
Your pest extermination needs are unique. So we offer customized eradication and prevention options designed to provide you with total peace of mind.