Get Pest Free
in Matthews, NC
Matthews is lovely community where residents enjoy a pleasant suburban lifestyle with all the modern conveniences. The only thing that could possibly make Matthews better, would be if it was pest-free. And that's why Croach® opened an office near Matthews featuring eco-friendly pest extermination!
✓ Get a free whole-house pest inspection – inside and out.
Integrated Pest Management in Matthews
It may be a mouthful, but IPM, truly is a simple idea. The concept involves taking precautions to avoid pest problems to begin with. And when pest problems do occur they are treated with minimal chemical interventions. The goal of IPM is to minimize risk to people and the environment. IPM is a long-term approach to pest control that goes far beyond do-it-yourself chemical extermination.
Working hand-in-hand with your Croach® technician, we'll use these IPM methods to suppress pests.
Cultural controls: Homeowners can easily get into good IPM habits, like emptying vessels of standing water, wiping up spills and crumbs, and keeping their houses tidy and vacuumed in order to reduce the establishment, reproduction and survival of pests.
Physical controls: Preventing pests from entering your home or property is called exclusion. Your Croach® technician will locate breaches, and block holes, cracks or other access points so pests never make into your space.
Mechanical controls: Traps are a method of mechanical control, which removes pests without the use of chemicals.
Chemical controls: Your Croach® exterminator may need to apply chemical pesticides to target an infestation. We are very selective about the chemical products we use, and use them discreetly to maximize safety for your family and pets.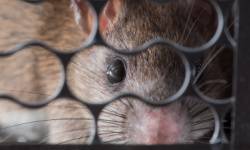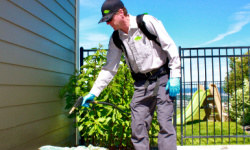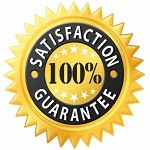 Retreats Guarantee
We guarantee a retreat of pest issues that arise between regularly scheduled services. Ask for more details when you sign up.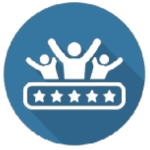 Thousands of Customer Reviews
Trust Croach® pest control reviews of friends and neighbors near Matthews and browse customer surveys of their pest management technicians.
Our Pest-free Satisfaction Guarantee for Matthews
If you ever experience pests between scheduled treatments, we'll come back out to give you an intermediate, complimentary treatment. Your comfort and satisfaction are our top priority.
Enjoy life with peace of mind knowing that Croach® professionals have your pest management concerns under control.
From Stumptown to Stupendous!
In the early 1800s, Matthews was known as Stumptown, because most of the trees had been sacrificed for agricultural land. It's come a long way in the past two centuries. Once a sleepy railroad stop, Matthews is now a quiet bedroom community of Charlotte, and a dynamic and desirable location for families and couples who enjoy the balance of cosmopolitan convenience with the relaxed rural lifestyle that Matthews has to offer.
Matthews now sports oodles of trees, several parks, the Four-Mile Creek Greenway, and a heritage museum to remind us of our town's long history. You know it's a prime location when national chains like Family Dollar Stores and Harris Teeter grocery stores select Matthews as their company headquarters.
But unfortunately, wherever you find a nexus of pristine nature, commercial agriculture and human settlement, you'll be sure to find insect and rodent pests, and Matthews is no exception to the rule. Croach® pest control established an office near Matthews to help residents and small business owners keep pests out of their space.
Top Notch Service!

These guys are absolutely amazing! Came across a large ant nest right next to the house, gave them a call, and Daniel was here in less than 30 minutes! He took care of the issue, and took his time to clean up and check out the rest of the house as well! Absolutely top notch service and incredibly professional!! Read More from Chaz H.
Highly Recommend!

Daniel came out and did a great job. He called ahead of time was very thorough with his work. De-webbed my house and fence, along with spraying to the top of my house to prevent any critters from making homes in the future. Looking forward to no more spiders nesting around my house. I highly recommend Croach! Read More from Lisa U.
Pest Control Services by Croach® Exterminators Near Matthews
Get rid of the spotted lanternfly, ants, carpet beetles, cockroaches, mice and rats, silverfish, spiders, wasps and other stinging, biting, crawling, and flying pests. We serve Matthews residents in single-family homes, apartments, HOAs, and light commercial buildings.
Find Peace of Mind in Matthews with a Pest Free Home!
Stop wasting your time and effort trying to combat pests with D-I-Y store-bought chemical sprays and foggers. Those products really never get to the source of the problem, with the downside of introducing random chemicals into your home. Your Croach® technicians have the tools and training to stop pest infestations, and more importantly, they know how to prevent future pest problems from occurring.
Call Croach® pest control today for a FREE pest inspection!
Licensed, Bonded, Insured
NC Pest Control License #2272PW