Wasps in our yard, garage or porch can make being outdoors unbearable. Croach® provides long-term wasp control in Charlotte.
✓ Get a free whole-house pest inspection – inside and out.
Croach® Removes Wasps, Paper Wasps, Hornets, and Yellow Jackets
You don't have to have a wasp sting allergy to want to keep these little insects far away from your Charlotte home. Wasp stings can be very dangerous and the presence of wasps can make your home and yard all but unlivable, if unaddressed.
Two-inch long cicada-killing wasps? Charlotte's got them. Charlotte homeowners also contend with ground nesting yellow jackets, wingless wasps, and a variety of other species with painful stings.
Fortunately, our Croach® wasp removal techniques help you get rid of wasps quickly and efficiently, so that you no longer need to worry about these aggressive pests.
Types of Wasps in Charlotte, NC
There are at least 14 different wasps and hornets species here in North Carolina.
Bald-faced hornets
Downy yellow jackets
German yellow jackets
Southern yellow jackets
Fine-backed red paper wasps
Thread waisted wasps
Thynnid wasps
Sand wasps
Wingless wasps
Cicada-killing wasps
The prevalence of wasps in the Charlotte area means they can be very difficult to keep away from your home without professional help.
What Attracts Wasps?
Some of what attracts wasps is in your control, and some isn't.
Bright-colored flowers and fruit trees attract wasps.
In addition, open water, such as your bird bath or swimming pool, attracts them. We're not recommending you give these things up!
They're also attracted to sweet scents and meat smells. You can discourage them by keeping garbage lids tightly closed. Wasps also use untreated wood pulp to build wasps nests.
Finally, they're attracted to sheltered spaces, which is why many species construct their nests on your front porch.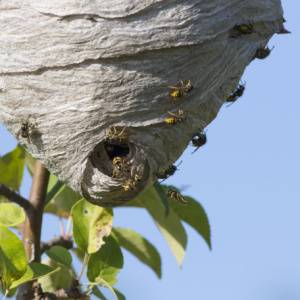 Where to Look for Wasp Nests in Charlotte
Wasps are either social or solitary.
If they're social, they'll place their nests above ground, in elevated places. You'll find them in trees, bushes, beneath the eaves of your house, in cracks or crevices, behind shutters, or near outdoor light fixtures.
If they're solitary, they'll place their nests below ground, either in the dirt, under rocks, below fallen branches or logs, or in driveways and patios.
If they built the nest close to your house, you might even start seeing wasps inside of your home. Wasps are good at finding ways inside, which is one reason they are dangerous. Unfortunately, they can sting you when you least expect it!
If you see the nest, do not approach. Most wasp species are at their most aggressive when you threaten their nest. Protect yourself and your family by calling Croach® Wasp Removal for help.
A Business with Integrity!

We noticed some wasps after our initial treatment a few weeks ago and decided to call. As promised, Croach sent their service tech back to our house and treated the spots we found. Scott was very helpful and took extra care to make sure we were happy. It's nice to see a business with integrity.
Came the Next Day!

The technicians are very professional. The customer service is very friendly and helpful . I am severely allergic to insect bites especially yellow jackets. They came the next day when I told them I have yellow jackets in my yard, and wasps outside my windows.
Our Charlotte Wasp Control Process
Croach® Pest Control wasp control technicians use a proven three-step process to safely eliminate wasps from your property.
We start with an initial inspection. Your Croach® technician will report to you about potential problems and nests that were found. Your tech creates a customized plan for wasp extermination and ongoing management.
Next, we begin the treatment process. By the time we leave your property on that first visit, the active wasp problem will be gone.
Finally, we offer ongoing pest control management services using environmentally-friendly products. There's no one-and-done way to prevent wasps gone forever, but regular service helps to ensure that they stay away from you and your family.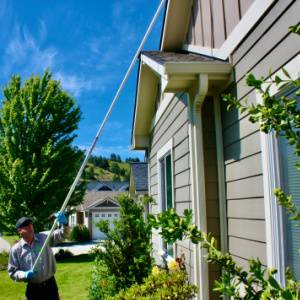 Pest Control Services by Croach® Exterminators Near Charlotte
Call Croach® to get rid of the spotted lanternfly, ants, carpet beetles, cockroaches, mice and rats, silverfish, spiders, and other stinging, biting, crawling, and flying pests. We serve Charlotte residents in single-family homes, apartments, HOAs, and light commercial buildings.
Get Rid of Wasps Today
Ready to enjoy a wasp-free home?
Call (704) 954-8878 to schedule your inspection today.
Charlotte, North Carolina Wasp Removal Service Area
Belmont, Charlotte, Concord, Davidson, Gastonia, Harrisburg, Huntersville, Kannapolis, Lowesville, Matthews, Mint Hill, Monroe, and Mooresville.
Licensed, Bonded, Insured