Pest Control for Estacada, Oregon
Croach® provides experienced pest control services for Estacada homeowners and businesses.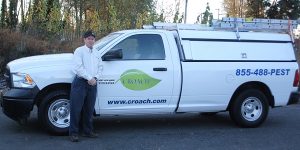 The early trains and trolleys that defined Estacada are a thing of the past, but the rats that rode them into the city remain. With the prevalence of the timber industry, Estacada is well aware of the dangers of pests like the emerald ash borer, termites and carpenter ants. The recent focus on arts and culture proves residents value beauty and community, including protecting our homes and families.
At the base of Mt. Hood, is it any wonder how Estacada residents love to relax? Trips with Blue Sky Rafting, visits to Milo McIver and other state parks, are reasons to keep the animals in the wild and the Clackamas clean. At home with your favorite Fearless Brewing Company product, keeping pests like spiders, ants, mice and rats, wasps, and stinkbugs out there, where they belong, allows you to relax completely.
We keep pests where they belong in Highland/Elwood, Three Lynx, Estacada City Center, and the surrounding areas.
Estacada Home Pest Control Process
At your initial visit, we provide a professional pest inspection of your entire home, inside and out. Your Croach® licensed technician will:
✅  Identify existing pest issues.
✅  Diagnose potential future problems.
✅  Review findings with you, provide recommendations and explain our products and methods.
✅  Go over safety measures taken to protect your family and pets.
Our pest control technicians undergo continuous training. Their performance is regularly reviewed to make sure that you are receiving the best service.
Croach® Pest Control Service Guarantee
If a problem occurs between scheduled, warrantied service visits, Croach® will re-treat your home free of charge.
Estacada, Oregon Pest Control Reviews

"He was on time and very pleasant ! I was impressed with his knowledge and understanding of my concerns. I had croach at my other house and thought so highly of them I called them back for my new home."
---

"Thank you Joseph! Great job. We love being pest-free."
---

"I was very pleased with Joseph's service. He explained to me what they were doing and was very friendly and helpful. I have been upset by the mice in my garage and he made me feel so much better because he instilled confidence that we could get this under control."
Get Rid of Rodents, Bugs, and Stinging Insects!
Call your local pest control contractors at 503-430-5974 or schedule an inspection online for professional, personalized Estacada pest control services.
Or visit our Portland Region Pest Control page for more information on our service areas.