Castle Rock Pest Control Services
Croach® provides pest control for Castle Rock, CO homeowners to include a thorough interior and exterior inspection and a customized extermination and management plan.
Get Rid of Spiders, Rats, Mice, Ants, and Wasps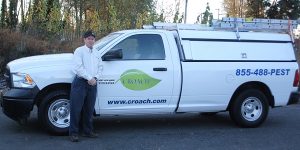 Croach® pest management services create a protective barrier to keep these bugs and pests away from your Castle Rock home and family.
We've also got you covered for common pest problems such as deer mice, carpenter ants, beetles, hornets, yellow jackets, black widows, stink bugs, yellow sac, brown recluse, and hobo spiders.
Your pest extermination needs are unique. So we offer customized eradication and prevention options designed to provide you with total peace of mind.
Local Castle Rock Exterminator
Integrated Pest Management Services
The city of Castle Rock is named for its most unique feature, a fortress-like rock formation, offering a beautiful view. Your city dedicates 27% of its land to parks for your outdoor enjoyment.
As a town surrounded by nature, wildlife and humans often intermingle. Your home provides the perfect shelter and food source for rodents and pests. You can do your best to deter them and make your property as unattractive as possible, but professional pest control in Castle Rock is a huge advantage to prevent pest-related property damage and health concerns.