Castle Rock Pest Control Services
Croach® provides pest control for Castle Rock, CO homeowners to include a thorough interior and exterior inspection and a customized extermination and management plan.
Get Rid of Spiders, Rats, Mice, Ants, and Wasps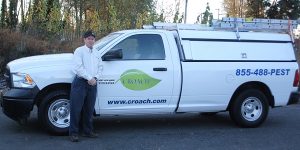 Croach® pest control services create a protective barrier to keep these bugs and pests away from your Castle Rock home and family.
Every one of our customers is faced with a different array of pest concerns. Your professional technician will create a tailored strategy to manage your pest control needs for extermination and prevention.
Repeat treatments are designed to break the breeding cycle of pests, remove the infestation, and permanently impede or prohibit their return.
Services Include:
Ant Control
Mice, Rats, and Other Rodents
Spider Control
Wasp Removal
Cockroach Control
Silver Fish
Bed Bug Control
We've also got you covered for common pest problems such as deer mice, carpenter ants, hornets, yellow jackets, black widows, yellow sac, brown recluse, and hobo spiders, and even carpet beetles.
Free Pest Inspection
Local Castle Rock Exterminator
The city of Castle Rock is named for its most unique feature, a fortress-like rock formation, offering a beautiful view. Your city dedicates 27% of its land to parks for your outdoor enjoyment.
As a town surrounded by nature, wildlife and humans often intermingle. Your home provides the perfect shelter and food source for rodents and pests. You can do your best to deter them and make your property as unattractive as possible, but professional pest control in Castle Rock is a huge advantage to prevent pest-related property damage and health concerns.
---
"Keith, as always you did a wonderful job! Thank you for your friendly service and the great information you provide."
Castle Rock, CO 80104
---
What You Can Expect During Your Initial Visit
Your home is thoroughly inspected. This initial checkup includes:
Identifying your existing pest issues
Diagnosing potential future pest problems
Reviewing results with you including an explanation of recommended treatment products and methods.
Croach® Credentials and Customer Benefits
Licensed, insured, and experienced technicians.
Customized pest control service plans specific to the Castle Rock area.
Hi-tech solutions, that save you money and time, for ongoing prevention of pest and rodent infestation.
If you need them, we offer free retreats for warrantied services between appointments. Just give us a call.
---
"Keith is great, always polite and professional! We really appreciate him and Croach keeping the pests away!!"
Castle Rock, CO 80109
---
Free Pest Inspection
Castle Rock Service Area
We serve all Castle Rock communities including Castle Pines Village, N Crowfoot Valley Rd/Knobcone Dr, Upper Lake Gulch Rd/Garton Rd, Happy Canyon/Silver Height, Monte Vista Estates, S Ridge Rd/E Willow Creek Rd, Front St/Founders Pky, Orsa, Route 83/Route 86, and E Enderud Blvd.
Licensed, Bonded, Insured
CO License #16006