Brighton Pest Control Services
Croach® provides customized, cost-effective pest control services for Brighton area homeowners and businesses.
Get Rid of Spiders, Rats, Mice, Ants, and Wasps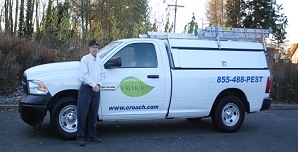 Safeguard your home and family from these and other pests with pest management from Croach® in Brighton.
We've also got you covered for common pest problems such as deer mice, carpenter ants, hornets, yellow jackets, black widows, yellow sac, brown recluse, and hobo spiders.
Encountering them outside is one thing. It's when they try to join you in your home that they really become a problem. And the spiders we mention can be dangerous.
But no worries – Croach® technicians are thorough in removing unwanted guests from your home, within your budget.
Your pest extermination needs are unique. So we offer customized eradication and prevention options designed to provide you with total peace of mind.
Local Brighton Exterminator
Integrated Pest Management Services
There is always something to do in the city of Brighton. With outdoor activities like Brighton Oasis in the spring and summer, Barr Lake for viewing wildlife outside where it belongs, and Berry Patch Farms for picking your own strawberries and kids adventures. Of course, when it gets cold you want to head inside, someplace like The Armory.
Speaking of cold, Brighton is a city where you might see snow nine months out of the year. Which means insects and rodents want to spend a great deal of time inside your house. They destroy property, cause health risks, and diminish peace of mind.