Get Pest Free
in Lowesville, NC
Residents of the town of Lowesville enjoy a comfortable suburban lifestyle in pristine natural surroundings including Lake Norman and the Catawba River. Unfortunately, pests also are attracted to the same geographic advantages that make this area a desirable home for families and retirees.
✓ Get a free whole-house pest inspection – inside and out.
Why are Pests Attracted to Lowesville?
Pests have three basic requirements to thrive – food, water and shelter. They readily fill all of these needs in Lowesville. Of course, local homeowners want to avoid the problems of pests, like disease, stings, bites and damage to home and property. But they don't care to use toxic chemicals that could hurt their family or the environment. Is it even possible to live without bugs and pesticides?
Eco-Conscious Pest Control in Lincoln County
Croach® pest control shares the same concerns as the residents of Lowesville, which is why we practice Integrated Pest Management or IPM. North Carolina has been a leader in this approach to pest control, which started decades ago on commercial Christmas tree farms.
Pest Control Services by Croach® Exterminators Near Lowesville
Get rid of the spotted lanternfly, ants, carpet beetles, cockroaches, mice and rats, silverfish, spiders, wasps and other stinging, biting, crawling, and flying pests. We serve Lowesville residents in single-family homes, apartments, HOAs, and light commercial buildings.
What is Integrated Pest Management?
IPM is an ecosystem-based strategy that focuses on long-term prevention. It encompasses a combination of techniques like cultural, mechanical, physical and chemical controls to get rid of pests easily and permanently using the least amount of pesticides possible.
IPM Treatment Strategies
Cultural controls:
Homeowners can easily get into good IPM habits, like emptying vessels of standing water, wiping up spills and crumbs, and keeping their houses tidy and vacuumed in order to reduce the establishment, reproduction and survival of pests.
Mechanical controls:
Traps are a type of mechanical control which remove pests without the use of chemicals.
Physical controls:
Preventing pests from entering your home or property is called exclusion. Your Croach® technician will locate breaches, and block holes, cracks or other access points so pests never make it into your space.
Chemical controls:
Your Croach® exterminator may need to apply chemical pesticides to target an infestation. We are very selective about the chemical products we use, and use them discreetly to maximize safety for your family and pets.
Croach® pest control services are custom-tailored to your specific needs, using the most effective means available, after completing a FREE comprehensive inspection and consultation.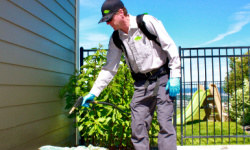 Our Pest-free Satisfaction Guarantee for Lowesville
If you ever experience pests between scheduled treatments, we'll come back out to give you an intermediate, complimentary treatment. Your comfort and satisfaction are our top priority.
Enjoy life with peace of mind knowing that Croach® professionals have your pest management concerns under control.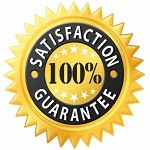 Retreats Guarantee
We guarantee a retreat of pest issues that arise between regularly scheduled services. Ask for more details when you sign up.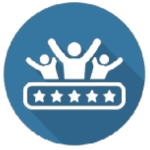 Thousands of Customer Reviews
Trust Croach® pest control reviews of friends and neighbors near Lowesville, and browse customer surveys of their pest management technicians.
Very Pleased!

I just had my home and dock on the lake treated by Croach. I was very pleased by the professional approach of Daniel, the service provider. He did exactly what was discussed in the time frame promised. Came back to me when finished and explained exactly what all he did. I would and will recommend him and the Croach company to my neighbors and friends!!! Very pleased! Mike H.
Treatments are Working!

Patrick did a great job. Applied treatment to all openings (interior and exterior) where pests might try to enter the house. Patrick took time to explain the process, showed me what kinds of pests had been trapped in the glue boxes, and confirmed he would be treating our dock today also. Very polite. Very professional. Most importantly, the treatments are working to keep pests, of all kinds, out of our house.
Live a Pest-Free Life in Lowesville
From historic Mount Welcome to sophisticated Charlotte, the Lake and the River, Lowesville homeowners have much more pleasant pastimes to enjoy than:
---
Let Croach® take care of your pest control needs safely and effectively. Then you can revel in the many blessings of living in Lowesville.
Licensed, Bonded, Insured
NC Pest Control License #2272PW