Pest Control in Corvallis, Oregon
Croach® brings effective pest elimination to Corvallis, Oregon residents. Our range of extermination and maintenance plans provide you with a complete solution to protect your home and family.
Nature Inspired Attractions in Corvallis
When people think of a college town, they imagine places that are trying to be Corvallis, OR. With many attractions centered around the University of Oregon and the attached Peavy Arboretum, it is no wonder there are local businesses like Darkside Cinema in the area.
This is a city of beautiful, nature-inspired attractions. Sites like the Rose Garden and the William L. Finley National Wildlife Refuge, where Corvallis residents work to protect dusky Canada geese. Of course, that makes us think of the other kind of wildlife. The ones you don't want to see. Things like wasps, ants, spiders, and rats.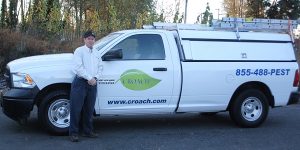 The infestation of cockroaches, bees, ants, spiders and rodents compromise your family's health and can cause damage to your home.
Our inspectors, licensed technicians, and customer service staff work to ensure your peace of mind.
Bugs in Your Community
A Bug Poet in Your Midst. Some of your city's vermin are presented in a funny, introspective, and captivating way through poetry by your own Charles Goodrich, author of Insects of South Corvallis. Goodrich worked as a professional gardener for 25 years. Furthermore, he is currently the Director for the Spring Creek Project for Ideas, Nature, and the Written Word at Oregon State University. In his book, Goodrich features the likes of hobo spiders, sow bugs, houseflies, and more.
Educating the Public. BugZoo is an outreach and education program at OSU. They make on and off-campus presentations to K-12 students and the general public. Their bug collection includes walking sticks, millipedes, cockroaches, beetles, spiders, and others.
Brown Marmorated Stink Bug. StopBMSB.org focuses on sustainable, long-term management of the invasive pest, the brown marmorated stink bug (BMSB), across the Pacific Northwest and elsewhere in the country. This variety of stink bug was accidentally imported from Asia to North America in the late 1990s. Thereafter, it quickly became a nuisance pest, overwintering in homes, office buildings, and warehouses.
100-million-year-old Insect Identified by Corvallis, OR State University. A new alien-like insect has been discovered, preserved in amber. It lived in Myanmar at a time when dinosaurs roamed the Earth. After a thorough analysis, scientists concluded that each of it's strange, bulging eyes could cover a field of view of almost 180 degrees. So it literally could see behind as well as forward. It has been assigned to the new biological order Aetheocarinodea, which is the 32nd classification of groups of insects recognized by science.
Croach® Pest Control Process
Your complete initial inspection:
✅ Home inspection. We find current pest problems and identify conditions ripe for future problems.
✅ You receive a full report of our findings. We offer customized services to resolve prevailing issues and prevent future problems.
✅ Your safety is our top priority. We explain our treatment procedures, products and safety measures. And we always welcome your questions.

Free Pest Inspection
Personalized Pest Extermination and Prevention
Your home and pest control needs are unique. So to fit your schedule and budget, we offer customized elimination and prevention programs created to bring you peace of mind.
Corvallis residents enjoy tailored scheduled services throughout the seasons to ensure continuous protection.
Croach® first-rate pest control includes:
✅ Interior treatment. Flush-out of current pests and prevention of future problems.
✅ Remove wasp nests and spider webs. Our licensed technicians remove spider webs and wasps nests.
✅ Exterior treatment. A liquid barrier surrounds the outside of your home to keep pests out.
✅ Granulation treatment. Another pest barrier to discourage pests from nesting on your property.
Corvallis, Oregon Pest Control Reviews

"Croach people let us know when they're coming and do a thorough job taking care of our pest problems. We haven't any serious pest problems since working with Croach."
Dick B - McMinnville, OR

"Sometimes I work odd hours, but they were even able to accommodate my crazy schedule, which is always a huge relief. I felt a little bad for the guy working late, but they're doing people like me a HUGE favor."

"I would recommend this service to everyone. Customer service is outstanding. I've used the service almost two years and without fail the technician is on time and does an exceptional job as scheduled."

"Loved that they came shortly after I called them. We had those tiny little ants everywhere in the kitchen the bathrooms, yack. We have been ant free for the last couple of years a few spiders here n there but of the smaller variety. They come quarterly to spray, the cost is comparable and reasonable, the guys are mostly personable they check in with me when I'm home when were out they leave a note saying they were here."
View More Google Reviews and Customer Reviews.
---
Superior Pest Control Standards
You can count on exceptional pest control far beyond the norm.
With our licensed technicians, proficient inspectors, and friendly customer service staff, you can expect results that accommodate your needs.
To achieve this goal and exceed your expectations, we offer:
✅ Free Retreats. If a warrantied problem arises between scheduled visits, we will re-treat your home free of charge.
✅ Current Technology. We use hi-tech solutions for ongoing prevention of pest and rodent invasions.
✅ Communication. Your feedback is encouraged to help us improve our services and solutions.
Call Croach® today at (503) 430-5974 or schedule your inspection online for Corvallis, OR pest control services. Or visit our Portland Region Pest Control page for more information on our service areas.

Free Pest Inspection
Licensed, Bonded, Insured
WA License #70991
OR License #AG-L1021171CPO
Corvallis Pest Control Near Me
Croach® is proud to serve the Corvallis neighborhoods of Oregon State U, Lewisburg, SW Philomath Blvd/SW Country Club Dr, NW 29th St/NW Grant Ave, NW Walnut Blvd, SW West Hills Rd/SW 53rd St, Corvallis City Center, NW Harrison Blvd/NW 11th St, NW Kings Blvd, and NW Grant Ave.