Bed Bug Exterminator near Portland and Beaverton
Did you know that Portland is ranked among the top 50 U.S. cities with the highest bed bug infestations? Croach® Pest Control provides bed bug exterminator services near Beaverton too.
✓ Get a free whole-house pest inspection – inside and out.
Are Bed Bugs Hard to Get Rid Of?
The quick answer is YES.
According to an National Pest Management Association survey, 76 percent of bed bug exterminator professionals rate bed bugs as the most challenging pest to get rid of!
They are especially frustrating to eradicate when you rely on do-it-yourself methods.
How to Check for Bed Bugs in Your Portland or Beaverton Area Home
An adult bedbug measures only 5 millimeters long - about the size of an eraser on a pencil or an apple seed. You can see them with the naked eye, but these pests conceal themselves in the light of day.
Bedbugs hide in dark crevices near where people sleep such as under couch cushions, the seams of a reclining chair, or beneath the mattress on your bed. As the population grows, they will spread 10 to 20 feet away to hide in nightstands, end tables, and baseboards.
It is easier to look for the signs of infestation:
Blood stains on your sheets, pillowcase, pajamas, mattress, bed frame, or walls.
Bed bug feces that appears as dark brown spots. Also look for egg casings and shed skin casings in seams, cracks, and crevices.
Itchy red bumps on your skin (bed bug bites) or frequent morning fatigue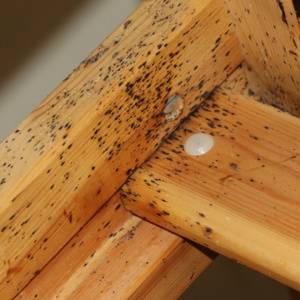 How to Stop Them from Entering Your House
Follow these tips from the Oregon Health Authority to avoid a bed bug infestation in the first place, and to maintain a pest-free environment after we eradicate them.
Vacuum frequently to include all sides of your mattress, bed frame, and headboard. Use a crevice tool to reach cracks in baseboards and furniture, and the deep seams of couches and chairs.
Don't place or store luggage, tote bags or purses, or other travel items in rooms or near areas where you sleep.
Clean regularly with soap and water, remove clutter, and watch for the signs, including feces and skin casings. The sooner you notice them, the easier it will be to destroy them.
Everything Right, Start to Finish!

Andrew did everything just right, start to finish. He phoned on the way to let me know his arrival time. He was attentive to the special needs of my property (extensive shade garden, many delicate shrubs around the perimeter) and my request to watch for signs of wasps. Andrew is personable, and easy to talk to. I look forward to seeing him again for my next quarterly service. Thank you!
Read more reviews from Portland customers
Knowledgeable and Friendly Service!

I appreciated how quickly you were able to come out, and how knowledgeable and friendly you all were. I felt comfortable with everyone inside and outside of my home, and with the products that were used. I also appreciated everything being cleaned up and removed. I look forward to a critter free house, thank you!
Read more reviews from Beaverton customers
Bed Bug FAQs
Beaverton and Portland homeowners have many questions about bed bugs. Here are a few of the most common questions our technicians are asked.
How Do Bed Bugs Get into Our Homes?
Bed bugs are opportunistic parasites that stow away on our belongings (luggage, back packs, and furniture). That's how we unintentionally bring bed bugs into our homes and businesses from other locations.
You can search for reports of them at area hotels on the bedbugregistry.com or bedbugreports.com websites.
There are some simple steps you can take to reduce the risk of bringing them into our homes.
What Do Bed Bugs Eat?
Bed bugs feed on the blood of humans. That means, you and your family! They creep out of their hiding places at night. They are attracted to your body's heat, and the C02 you exhale.
Why Does Bed Bug Treatment Often Fail?
You may have tried retail bed bug spray and found it to be only a temporary solution. In many cases, the bugs have developed a resistance to certain insecticidal products. Those products might kill some bed bugs upon making contact, but they won't discourage eggs from hatching or kill bugs that are hiding.
Many DIY methods do more harm than good, such as:
Spraying your body with insect repellent before bed
Using pest repellents meant for outdoor use that put your family at risk
Bombs and foggers that only force bed bugs into harder-to-reach hiding places
Your Croach® bed bug exterminator knows how to break the life cycle of pests by using focused strategies.
Put Your Bed Bug Problems to Rest!
You don't have to sleep with bed bugs! Contact Croach® to schedule a free inspection today.