Get Rid of Mice and Rats in Kennewick, WA
The experts at Croach® provide effective mouse control and rat extermination in the Tri-Cities.
✓ Get a free whole-house pest inspection – inside and out.
Get Rid of Mice and Rats in Kennewick
A rat or mouse in your home can carry a lot of risks. These rodents can cause extensive damage to your property, contaminate your and your pet's food, and spread serious diseases like salmonellosis, rat-bite fever, and allergies through their bite, urine, or droppings. That's why detecting and promptly dealing with a potential rat or mice infestation is essential.
At Croach®, we provide effective rodent control and Integrated Pest Management services designed to not only eliminate your current rodent problem but also prevent re-infestation. Our pest control technicians are experienced and highly trained, and we only use tried and tested control techniques. Contact us for a detailed free inspection!
Caught Rodents the Next Day!

Recently we had a rodent issue and contacted some companies but they could not locate the correct position or had no idea of what exact animal it was. I decided to try Croach since they offer free inspection. Cassie came on time and found the possible entrances. She set up the traps which caught rodents the next day and sealed off entrances. She is so patient to answer all my questions and responsive to my messages even during non-business hours. She is careful and very professional on the job. I am very grateful.
Read more from Siyao Z.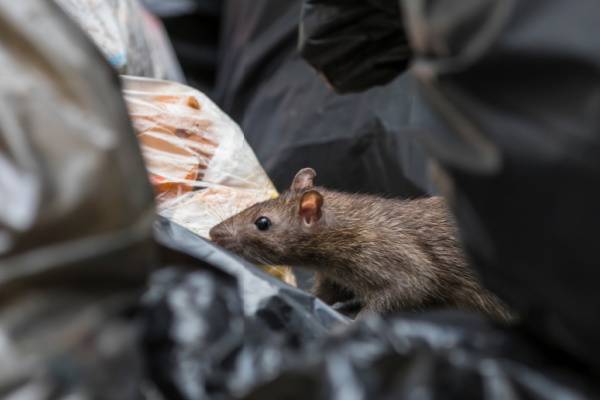 Common Types of Rats and Mice in Kennewick, WA
Roof Rats: Introduced into the Seattle area in the 1940s, the roof rat population in Washington has exploded in the past 15 years, becoming a real threat to homes. They're historically associated with bubonic plague and spread other diseases like trichinosis, typhus, and jaundice.
Norway Rats: They are primarily nocturnal and often enter homes in the fall, hiding in basements, piles of garbage, or crawlspaces. Apart from causing property damage, Norway rats can also spread diseases like plague, cowpox virus, jaundice, and rat-bite fever.
Deer Mice: They generally two-toned in appearance with a lighter (often white) underbelly. Most deer mice have a bi-colored tail, can grow to 7 inches in length, and breed year-round, having up to 5 litters yearly (average of 6 mice per litter). They derive their name from how fast they can run and jump. Deer mice are the most common carrier of Hantavirus, a group of viruses spread by rodents that can cause kidney, blood, or respiratory ailments and can sometimes be fatal in humans.
House Mice: These are the most common type of mice in Kennewick. They have light-colored bellies and prefer to nest in dark, secluded areas. They can fit through openings as small as a dime, and though they have poor vision and are color-blind, they make up for it with other enhanced senses. House mice can cause significant property damage by chewing through drywall and insulation, sparking electrical fires by gnawing on wires inside homes.
Signs You May Have a Rats and Mice Problem
Rats and mice are nocturnal creatures preferring to stay hidden during the day and rummage for food at night. The faster you identify the infestation signs, the quicker you can call in professionals to protect your family. Here are a few telltale signs to watch out for:
Chew marks and holes: Rodents are known to gnaw on everything from baseboards to wires.
Musky odor: The urine of rats and mice has a strong ammonia-like smell that grows stronger as the infestation worsens.
Scratching noises: Often heard at night when rats and mice are most active. Listen for scratching noises under floorboards, between partition walls, in false ceilings, basements, and lofts.
Droppings: Small, dark brown droppings usually found in cabinets, baseboards, and under furniture are a clear sign of rodent presence. Always use gloves and a mask when cleaning up rodent droppings.
Tracks: If you notice tiny footprints, especially in places where dust collects quickly, you may have rats and mice in your home. To check for activity, sprinkle flour, talcom powder or china clay, and check the next day for fresh tracks.
Odd pet behavior: Dogs and cats can smell rodents, so if your pet is scratching at walls in a particular area of the house, it could be a sign of rodents.
Strategies to Prevent Mice and Rats in Kennewick
Rats and mice are intelligent and adapt quickly to avoid common D-I-Y extermination efforts like traps. They hide in areas mostly inaccessible to humans which makes it challenging to eliminate them. Luckily, you can do a few things to get rid of rats and mice in Kennewick.
Remove potential nesting sites in your home and yard, such as leaf piles and deep mulch.
Seal holes inside and outside your home to keep the rodents out.
Use an organic peppermint-based or ammonia-based cleaner to repel rodents with the smell.
Keep your food tightly sealed.
Clean up food and water sources in and near your house.
Last but most importantly, secure ongoing professional pest control services.
Couldn't Be Happier!

The best company and people I have hired in years. Angel inspected for rodents, explained the process, quoted the price and had the office schedule the work. Work was completed on time with pictures to show the work done in the crawlspace. We then had air conditioning installed, and the HVAC techs created a potential entry point but said they sealed it off. Apparently, they did not seal it off, because we then caught another mouse. Cassy at Croach came back out and found two more mice in the crawlspace and suggested having Angel come back again for his opinion, which he did. He again inspected and sealed the opening the HVAC people created. That makes four trips, but they never charged more than the original bid. In addition, I asked Angel about having Croach lay a plastic barrier on the dirt in the crawlspace, and he said it was unnecessary and expensive. Couldn't be happier with the whole experience. p.s. the office staff is very nice and easy to work with.
Get Rid of Mice and Rats!
If you suspect you have a rat or mice problem, contact the experts at Croach® for effective mouse control and rat extermination.
Our rodent control experts will:
thoroughly inspect your home's interior and exterior for rodent activity

perform a damage assessment

implement an effective treatment plan for mouse and rat removal

use exclusion techniques to close off gaps, cracks, and holes, preventing future rodent infestations
Scary Mice No Longer a Concern!

David has been polite and professional to interact with and we've appreciated his efforts to go above and beyond in treating our home and property for rodents and bugs. A newborn baby and mice was a "scary" situation and we're thankful, that with CROACH, it's no longer a concern of ours.