What is the Purpose of a Crawl Space Vapor Barrier?
A crawl space vapor barrier is your Seattle home's superhero, providing strong and silent protection from structural damage and pests.
Years ago, homeowners learned that crawl spaces need to be vented. However, venting leaves the crawl space vulnerable to moisture and humidity, particularly here in the Pacific Northwest.
The vapor barrier is part of the crawl space encapsulation process performed by Croach® in association with pest control services.
What is Vapor?
By definition, vapor is "diffused matter (such as smoke or fog) suspended floating in the air."
When we're talking about the crawl space, vapor comes from condensation that is created when warm, moist air comes in contact with a cool surface.
How Does a Vapor Barrier Protect My House?

Moisture in the ground, under and around your house, turns to vapor.
Even with proper venting, the vapor remains trapped under your house.
Water vapor, or moisture, is absorbed into the wood frame of the home, and into existing insulation.
The vapor barrier protects your crawl space's floor by preventing ground moisture from entering the space. Prolonged exposure to moisture in the confined crawl space area is responsible for producing wood rot, mold, decaying insulation and pest infestations.
Imagine the damage to your house's foundation from any or all of these issues! Other potential problems include electrical shorts, pipe erosion, and damage to the overall structural integrity of your home.
What is a Vapor Barrier Made From?
The vapor barrier is a thin, light but heavy-duty plastic film made from polyethylene. It's laid down on the floor from wall-to-wall, completely covering the entire bottom of the crawl space. As noted, this is one component of encapsulation, which includes other remedies like sealing the walls and installing a dehumidifier.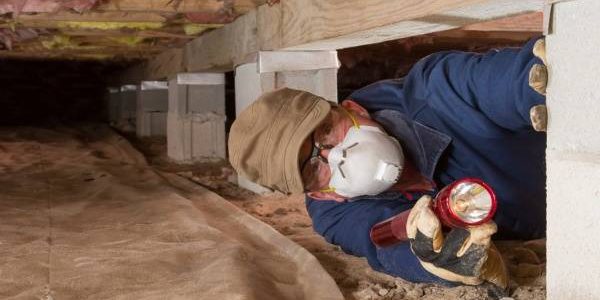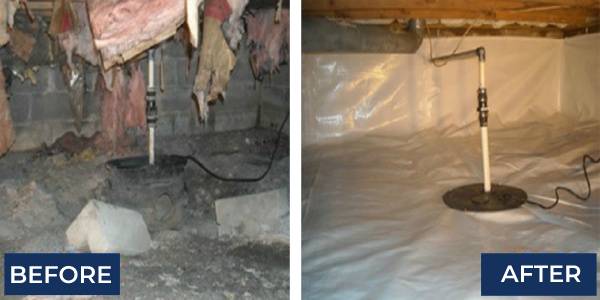 Why are Pests in My Crawl Space?
As the ground temperature heats moisture, it turns into vapor. The vapor then warms the crawl space, making it a cozy hang-out for pests, including insects, rats and mice.
Pests love the dark, neglected crawlspace, and infestations can happen quickly.
Common crawl space pests:
How Does a Vapor Barrier Prevent Pests?
The vapor barrier blocks warm moisture from the ground, so the temperature in your crawl space is less amenable for pests. Also, the slick plastic flooring is unpleasant for them to walk on. Along with the other components of encapsulation, the crawl space is completely sealed off from pests.
What Does Pest Control Have To Do With My Crawl Space?
Because our Croach® technicians often treat infestations in the crawl space, we now offer crawl space cleaning, insulation and encapsulation to prevent pests.
But there is so much more you can expect from crawl space services, including:
Protecting your real estate investment for yourself or resale.
Making your home more comfortable.
Improving indoor air quality.
Lowering energy bills.
Schedule Your Free Crawl Space Insulation Inspection Today
Free Crawl Space Inspection
---
Seattle Crawl Space Vapor Barrier Service Area
We provide services across Seattle including Anacortes, Arlington, Auburn, Bellevue, Bellingham, Bonney Lake, Bothell, Buckley, Burlington, Camano Island, Everett, Federal Way, Ferndale, Issaquah, Kent, Kirkland, La Conner, Lakewood, Lynden, Lynnwood, Marysville, Monroe, Mount Vernon, Mukilteo, Oak Harbor, Olympia, Puyallup, Redmond, Renton, Seattle, Sedro-Woolley, Snohomish, Stanwood, Sumner, and Tacoma.
Licensed, Bonded, Insured
Washington Pest Control License #82060
Washington Contractor License #CCPESTFF*894K4