The Problem of Ants in Columbia, SC
For a myriad of good reasons, beyond ruining picnics, people hate ants. The last thing you want to experience in your home is an infestation, requiring you to undertake urgent pest control action. Ants in the house can be very destructive. Besides infesting your food, and making it inedible, they also invade and damage property. For instance, they're often are responsible for short circuiting air conditioners or water softeners. Adding insult to injury, they may bite you or your family, causing pain as well as creating various health concerns, including Salmonella.
Croach® Helps You Proactively Defend Your Home from Ants
If you are unprepared, these common household pests can cause a lot of damage before you find a solution to eliminate them. They infest your home regardless of how clean you keep it. For this reason, you need to stay on top of things to get rid of ants as soon as they infest your home, or better still, to prevent them.
Quick and Effective!
They do an amazing job every time they come out. They treat the outside so well, they never have to come into the garage or house. I have not had any issues since they began, and the ants after a storm were taken care of quickly and effectively. I would recommend them to everyone!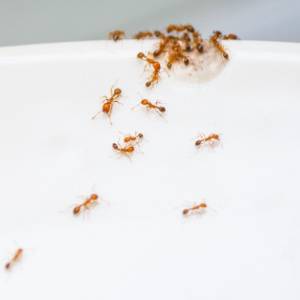 Most Common Species in SC
Here are the most common species in Columbia, South Carolina.
Carpenter Ants
Although carpenter ants do not destroy wood like termites, they are still destructive because they drill holes to build their homes. The black-colored pests are regarded as one of the largest groups of ants in the U.S.
The following are red flags of your home being invaded by carpenter ants;
Rustling emanating from wooden structures in your home
Visible wood shavings and dead ants on the ground under wooden structures
Large-winged ants foraging for food in the house
If you observe these signs, take fast action to curb further damage.
Odorous House Ants
As noted by their name, odorous ants are often detected by their unpleasant smell. If you crush one and smell an odor similar to rotten coconut, you've got odorous ants. When the infestation is significant, the foul smell can make your home inhabitable. Odorous ants are dark brown with a small body and an unevenly shaped thorax. They're also known as sugar ants.
Thief Ants
Named for their habit of stealing from other ants, thief ants prefer greasy foods, proteins, and insects. They're yellow-brown in color, and sometimes have red and black markings.
The Solution: How to Get Rid of Ants
Here are a few pest control tips to get rid of ants and prevent ants from invading your home.
Clean Surfaces: Wipe down the surfaces in your home, especially the kitchen area, to ensure that no food remains for ants. Ants feed on small food crumbs that may not be visible to the naked eye. Wiping down all the surfaces ensures that you remove the smallest of these food particles.
Food Storage: Make food inaccessible to ants. Because they're so small, they're able to crawl through even minuscule openings to access stored foods. Ensure that you put food in tightly closed containers or a refrigerator.
Food Refuse: Replace kitchen garbage trash bags frequently so any food scraps are outside your house.
Vacuum: Vacuum the ants and throw out the vacuum bag.
Contact Croach® Pest Control Services
If ant eradication has proved beyond your control, hire a pest control team to eliminate ants from your home. At Croach® pest control, we provide our customers with ongoing protection from ants, indoors and out.
Our service includes the following:
Inspection: We begin by inspecting your premises to get insight into the problem, and the extent of the infestation.
Planning: After inspecting, our next step is to devise customized strategies that will meet your needs.
Extermination: We use eco-friendly extermination methods that do not leave traces of toxic substances behind.
Contact Croach® for the Best Ant Control Services in Columbia, SC
We believe your home should be a safe, comfortable, and healthy living space. For this reason, we provide a range of services to help you get rid of some common pests. Besides ant control, our services include:
You don't have to deal with an invasion by yourself. Leave it to the experts to make your Columbia home safe from these destructive bugs.
Free Pest Inspection
---
Service Areas
We provide affordable, effective pest control services in the River City to include greater Cola: Batesburg-Leesville, Blythewood, Camden, Cayce, Chapin, Columbia, Dentsville, Forest Acres, Eastover, Elgin, Gaston, Gilbert, Hopkins, Irmo, Lexington, Lexington County, Lugoff, Oak Grove, Pomaria, Prosperity, Red Bank, Ridgeway, Saint Andrews, Seven Oaks, and West Columbia.
Licensed, Bonded, Insured
License #CA033446